Yaowarat Vegetarian Festival | October 16 – October 25, 2020
in Features on 16/10/2020
#TesakanKinJay
#YellowFlags
Yaowarat Vegetarian Festival
October 16, 2020 – October 25, 2020
#WearingMask
#KeepingSocialDistancing
#FrequentlyWashingHands
Try out more than 100 vegetarian dishes from vegetarian restaurants at vegetarian dish booths starting from Odean Circle to Chaloem Buri Intersection. Some example of dishes are noodle menu, vegetarian zongzi, vegetarian Khanom Khrok, vegetarian sticky rice in bamboo, vegetarian bubble tea, vegetarian Youtiao, vegetarian meat ball, and etc. Apart from vegetarian dish booths, other activities are making merit to strengthen your fortune, and watching flower parade and lion dance. Highlights during this period, you will see many yellow flags fly all around Thailand that means the vendors are selling 'vegetarian food'.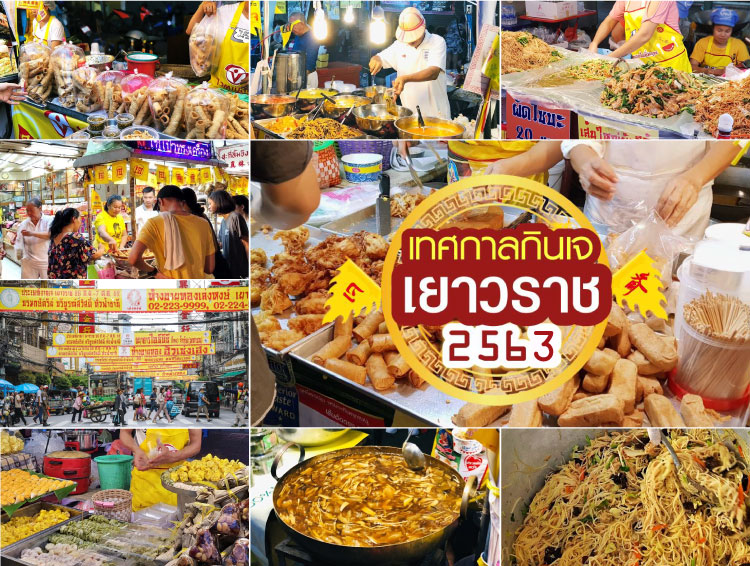 The Vegetarian Festival in Thailand is widely celebrated throughout the country, especially among the nine million Thai-Chinese population, who strictly observe a vegetarian or vegan diet for nine days and nights for the purposes of spiritual cleansing, merit-making, conferring good luck, and ensuring prosperity and long life.
From Bangkok's Chinatown to historic seaports on the Gulf of Thailand, and tranquil heaven-on-earth hideaways to bustling resort towns, Thailand and its Thai-Chinese population unite to welcome both local residents and cultural visitors in energetic celebrations of the Vegetarian Festival – shaped by multiple cultural references including Chinese Taoism and Mahayana Buddhism.
For more information, contact TAT Call Center at 1672
Text Credit by Tourism Authority of Thailand (TAT)
Photo Credit by www.facebook.com/chinatownyaowarach