Thai Folklore, Legends, and Other Tales from the Past Nang Songkran 2017
in Features on 19/04/2017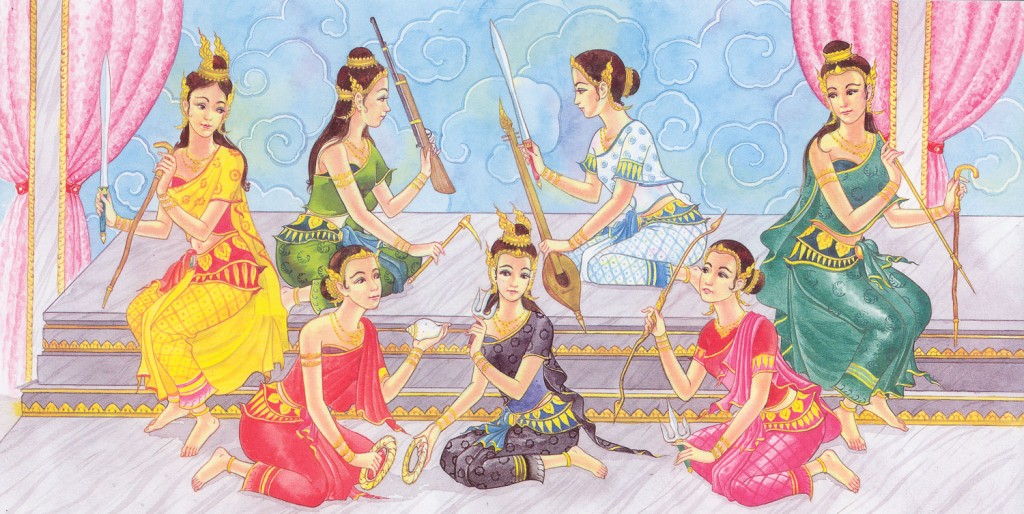 Text & Photos by Tourism Authority of Thailand (TAT)
Attend any of the Songkran festivities this Thai New Year and you might be lucky enough  to see a procession of Nang Songkran (similar to Miss Songkran). Every year Nang Songkran wears a different costume, sits on a different animal, carries a different item in each hand, and has a preferred food, depending on the day of the week Songkran falls on. To understand her origins, you have to take a little journey into Thai mythology.
According to legend, a story ensued between King Kabilaprom and seven-year-old Prince Thammaban, who was very intelligent. King Kabilaprom asked the young prince three questions with the conditions that if his answers were correct, King Kabilaprom was willing to sacrifice his head but if they were wrong, the prince must do likewise. So the king asked the prince questions about where the good signs on a person were at each period of the day from morning to noon until evening. To the surprise of the king, the prince answered the questions correctly, namely the good sign on a person in the morning is at the face, at the chest at noon, and at the feet in the evening.
The king then had to cut off his head as promised. However, the king's head was so powerful that the whole world would catch fire if it touched the earth, a serious drought would occur should it be thrown up in the sky, and all the ocean water would dry up if it was thrown in the ocean.
So, before the king died he assigned his seven angel daughters to take turns carrying his head clockwise around Phra Sumane Mountain. Each of the seven daughters are assigned a different day of the week and, depending on the day of the week Songkran Day (April 13) falls on, that year will be honored by that Nang Songkran.
As this year, Songkran Day falls on a Thursday, April 13, it is the turn of 'Kirineetevee'. She wears a greenish yellow dress with emerald ornaments, and rides on the back of an elephant; she carries an elephant hook in the right hand, and gun in the left hand; she preferred nuts and sesame seeds as her food. Look out for her in this year's Nang Songkran parades.