Tak Bat Dok Mai Festival 2019, Phra Phutthabat Woramahawihan Temple, Saraburi Province
Tak Bat Dok Mai Festival 2019
Tradition of Giving Flowers offering to a Buddhist Monk
Phra Phutthabat Woramahawihan Temple, Saraburi Province
July 15 to 17, 2019
During Khao Phansa in Saraburi, people visit the local shrine of the Buddha's Footprint where yellow and white flowers are offered to monks (Tak Bat Dok Mai) as a way of making merit. This has become a big event and now thousands of people join to give alms to the monks as they ascend the steep stairs of the shrine.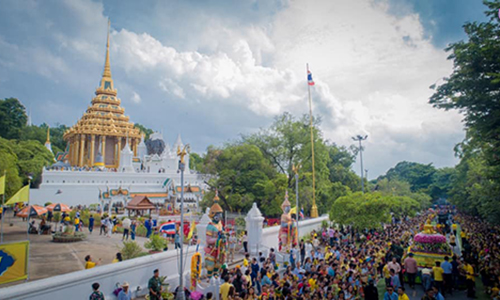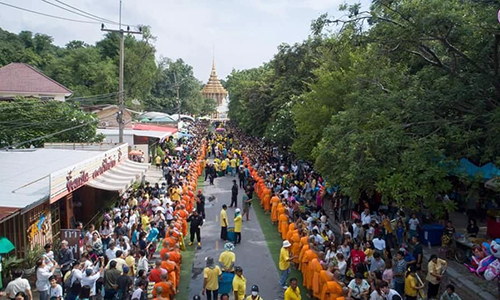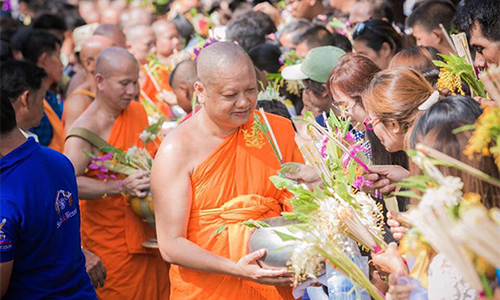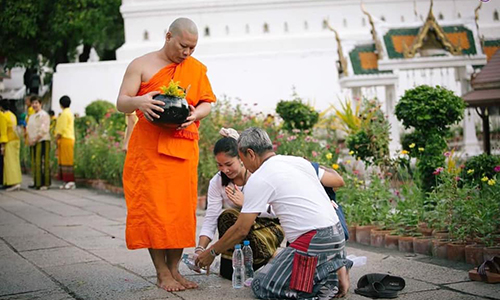 The Tak Bat Dok Mai floral offering merit-making ritual is unique to Saraburi province, about a hundred kilometers from Bangkok. This ritual stands out from the merit-making activities conducted in the other parts of Thailand because in addition to the offerings of cooked rice, food, incense, candles and other conventional sacred items, the Tak Bat Dok Mai ritual includes offerings of Dok Khao Phansa flowers that only come into bloom during the Buddhist Lent and offering candle ceremony. There are other activities such as the local products shopping market and Thai traditional games. The event takes place at Phra Phutthabat Woramahawihan Temple, famous for the Buddha's Footprint. On 15th, in the afternoon, there will be a parade at 2pm, and then the opening ceremony at 5pm. On 16th and 17th, there will be two rounds of giving flowers to the monks on both days at 9am and 3pm.
For more information, contact Phra Phutthabat Municipality at 036-267-111 #0, TAT Call Center at 1672, or Facebook: งานประชาสัมพันธ์ กองวิชาการฯ เทศบาลเมืองพระพุทธบาท.