Samui Regatta 2017
in Features on 09/05/2017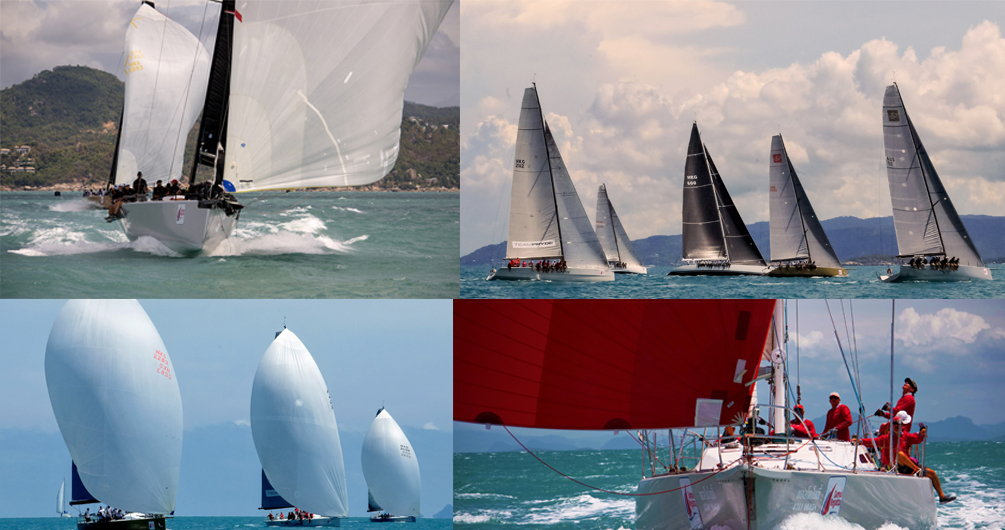 SAMUI, Thailand – More than 500 sailors are expected to arrive on Samui during the last week of May for what has become one of the most popular sailing events in Asia, the Samui Regatta. Based at Centara Grand Beach Resort Samui on Chaweng Beach and with support from the Tourism Authority of Thailand, this festival of sail attracts participants from more than 20 countries and has put Samui Island on the map as a world-class sports destination.
Now in its 16th year, the regatta maintains is prime position as the final event in the season-long Asian Yachting Grand Prix championship at which the 2016/17 Skipper and Yacht of the Year are awarded based on scores from the best regattas around Asia. The best sailors from Hong Kong, Singapore and around Asia, as well as from as far a field as Australia and Europe, come together to make up a high calibre fleet lead by the racers in IRC 0 which this year will includes an impressive fleet of TP52s as well as the largest boat in the regatta, the 76-foot Jelik owned by Hong Kong resident Frank Pong who will sail with a multinational crew from Hong Kong, China, Malaysia and the Philippines.
'We are expecting a very competitive line-up this year. As well as the 50-plus-footers in IRC 0, we have a strong class of 40-footers racing in IRC 1 and a strong turnout of sailors from around Thailand across the classes,' commented Simon James, Race Director.
'The idyllic Samui Island, and the fact we host our parties on the beach in front of our host, Centara Grand Beach Samui Resort, makes Samui Regatta feel like a true tropical island regatta – something that is popular with sailors who come from near and far each year.'
Building on the successful reintroduction of dinghy racing last year, organisers will again host classes for Optimists, Lasers and the double-handed 420s over the opening weekend this year.
'It's important for us to support youth sailing and we are very keen to help build grassroots sailing in Samui. The dinghy classes will give an opportunity to young sailors in Samui and we will also be welcoming sailors from Phuket, Hua Hin, Pattaya and Phangan, as well as perhaps some from overseas,' added James.
No regatta can succeed without strong support from the local community and businesses, and Samui Regatta encourages business small and large to get involved and support a clean, green sport such as sailing.
'Sponsors are important not just financially but also as partners in helping to promote the sport of sailing and the island of Samui. In addition to Centara Grand Beach Resort Samui, which we consider the home of Samui Regatta, and other local hotels, we work with many government departments and local municipal offices to ensure the regatta operates professionally and benefits the country. At the same time we actively encourage Samui residents to come out and enjoy the regatta, and this year we will again have a Spectator Boat provided by Serenity Yachting,' commented James.
The Spectator Boat will leave from the beach in front of Centara Grand Beach Resort Samui every race day and will allow guests to enjoy the spectacular sailing up close. Bookings can be made by calling Emily on +6695 4175750 or at the regatta office during the regatta week.
The 16th Samui Regatta will take place 20 – 27 May, 2017 off Chaweng Beach. Hosted by Centara Grand Beach Resort Samui, the regatta is organised by Regattas Asia in conjunction with the Samui Yacht Club Regatta, under the auspices of the Yacht Racing Association of Thailand, the Municipal of Koh Samui and the Sports Authority of Thailand.
For more information, contact Samui Regatta Office at 089-605-5016, TAT Call Center at 1672, or visit website at www.samuiregatta.com.