CPN and AIS Joining Hands to Create World-Class Countdown Phenomenon in 'Thailand & AIS Bangkok Countdown 2019'
in Features on 14/12/2018
CPN and AIS Joining Hands to Create World-Class Countdown Phenomenon in 'Thailand & AIS Bangkok Countdown 2019'
Resounding across Ratchaprasong; excitement with the concept of 'Eclipse of Time' and 360-degree experience with light and sound extravaganza along with spectacular fireworks to be broadcast live on AIS channels and on the panoramix, the world's largest digital interactive screen.
Hosting Thailand countdowns 2019 at 13 branches nationwide, targeting to increase traffic by 20% at end of year.
Putting forward 'Central Phuket' as another world class countdown landmark.
Central Pattana Plc. is joining hands with Advanced Info Service Plc. (AIS), The Tourism Authority of Thailand (TAT), Royal Thai Police, Toyota Motor Thailand Co., Ltd., Chang International Co., Ltd., Haad Thip Plc., Plan B Media Plc., GMM Grammy Plc., the Ratchaprasong Square Trade Association (RSTA), Index Creative Village Plc. and Channel 3 Thailand to organize 'Thailand & AIS Bangkok Countdown 2019' under the concept of 'Eclipse of Time', where the happy moment of yearend celebrations and the time of New Year's countdown event brought together at Thailand's best 'Countdown Entertainment' venue. Enjoy the spectacular firework and 360-degree light and sound effects that will be echoing across the Ratchaprasong district and dance through the New Year together with over 200 popular artists and Asia famous DJs. Be surprised by the special shows from AIS presenters and discover the 'Countdown Entertainment' phenomenon together nationwide through live broadcasts of 'AIS Bangkok Countdown 2019 @ CentralWorld' on 3SD channel from 22.30 hrs. onwards and also on 3HD channel from 23.30 – 00.30 hrs. Alternatively the broadcast will be available through Multi View on the AIS PLAY application and AIS Playbox from 18.30 – 00.30 hrs. on the night of 31st December 2018.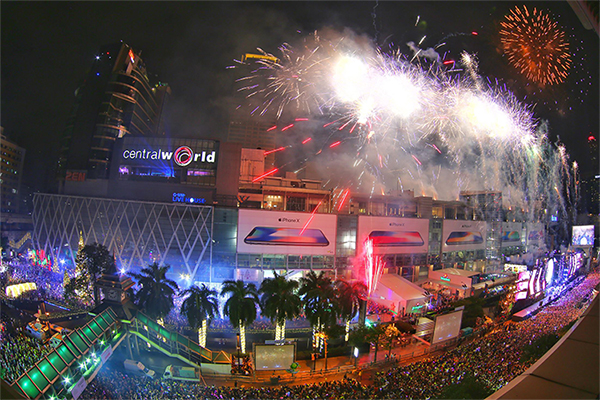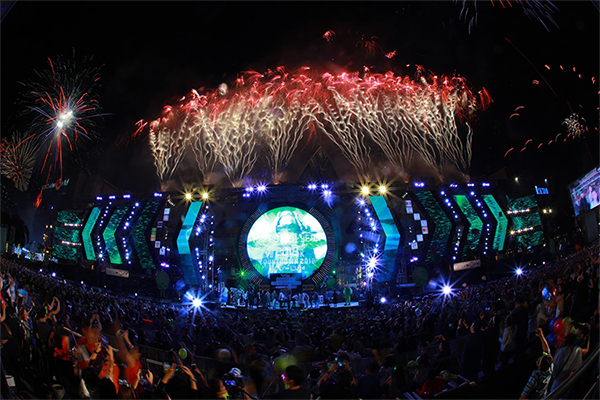 Dr. Nattakit Tangpoonsinthana, Executive Vice President of Marketing of CPN, said: "We have continuously been Bangkok's greatest countdown landmark, which has helped to establish Bangkok's reputation to the point where global news agencies such as CNN have chosen Bangkok as one of the world's top ten great destinations for New Year countdown and compared CentralWorld as the 'Times Square' of Thailand. With that in mind, this year, we are applying our 'Realised Connection Experience' strategy by focusing on providing the best experience right before people's eyes. Joining hands with AIS and other partners, we are able to fully create the grand and amazing 'Thailand & AIS Bangkok Countdown 2019' to help spur local economy and tourism at the end of the year. CPN is investing over 400 million baht in marketing activities, special promotions and lighting decorations at all 32 CPN shopping centers nationwide, aiming to increase customer traffic at our shopping centers by 20% during the year-end period."
Ms. Siwalee Buranasongkram, Head of AIS Brand Management of Advanced Info Service Plc. (AIS), said: "AIS is delighted to help jointly create happiness at the 'AIS Bangkok Countdown 2019 @ CentralWorld' event. When we think about a countdown landmark that is very popular among Thai people for the New Year celebrations, CentralWorld has always been a symbol for those happy moments when people count down to the new year. To make this event even more fun this year, AIS will bring special presents for Thai people presented by AIS presenters from the AIS family led by James Jirayu, Taew Natapohn, Peck Palitchoke, Bella Ranee, Toey Jarinpohn, and Put Puttichai, who will join the New Year countdown with everyone. In addition, those who are at home can watch live broadcasts of 'AIS Bangkok Countdown 2019 @ CentralWorld' with the Multi View feature through the AIS PLAY application and AIS PLAYBOX to share this happy moment together worldwide from 18.30 hrs. onward."
Dr. Nattakit added "AIS Bangkok Countdown 2019 @ CentralWorld' will be more special and bigger than the previous years' events as we will present the ultimate in 360-degree entertainment experiences. Enjoy the spectacular New Year fireworks and lighting & surround sound effects extravaganza, and there will be a DJ stage close to the audience, offering a true 360-degree entertainment experience. The artists who will be creating joy and fun include: Da Endorphine, J Jetrin and Jao-Nai, Joey Boy, Potato, 25 Hours, SB Five and BNK48. This will definitely be the greatest event for the Ratchaprasong district and as the special highlight this year, we will broadcast the countdown event live through 'the panoramix, the world's largest digital interactive screen' (standing in front of CentralWorld) to make the countdown experience this year even greater than ever."
"CPN intends to bring tourism forward in world-class tourist destinations such as Phuket and we are taking another step closer to that goal by holding an international countdown at Central Phuket entitled 'Central Phuket International Countdown 2019', which will be the world class countdown as at CentralWorld. Central Phuket is the largest shopping center in southern Thailand, attracting quality tourists with high purchasing power from around the world, therefore, we aim to make Central Phuket another world-class countdown landmark. Highlights at Central Phuket include international EDM DJs and a host of popular Thai artists who will fully entertain the audience and witness the grand celebrations designed especially for Central Phuket," Dr. Nattakit said.
As for our other branches, we will of course distribute the joy and fun to the other major cities as always. This year, we will be holding the countdown landmark at 13 branches in major cities nationwide and the main tourist cities to support a large number of Thai and foreign customers who will be visiting us. We have coordinated with the government and private sector to provide convenient transportation, parking and other services for countdown goers. Just like every year, we have received great cooperation from the Royal Thai Police, which sends officers for surveillance and ensures the maximum safety of all participants. This helps to emphasize the safety priority of CPN's countdown events," Dr. Nattakit concluded.
'Thailand & AIS Bangkok Countdown 2019' will be held at 13 CPN shopping center branches nationwide: CentralWorld, CentralPhuket, CentralPlaza WestGate, CentralPlaza Salaya, CentralFestival Chiangmai, CentralPlaza Nakhon Ratchasima, CentralPlaza Udonthani, CentralPlaza Rayong, CentralPlaza Nakhon Si Thammarat, CentralFestival Samui, CentralFestival Pattaya Beach, CentralPlaza Mahachai and CentralPlaza Phitsanulok.
For more information, please contact Public Relations Department, Central Pattana Plc at 02-667-5555 (Ms. Kwanjai Tangbut ext. 3701).