Bun Luang and Phi Ta Khon Festival 2019 at Dan Sai District, Loei Province on July 5 – 7
Bun Luang and Phi Ta Khon Festival 2019
July 5 – July 7
Every year, Dan Sai district in Loei province in Thailand's Northeastern Region, or Isan, stages a colourful event known as 'Bun Luang' or 'Bun Pawat' and the famous Phi Ta Khon Festival. This is a unique celebration of the province and the colourful processions and masked villagers ensure that a large number of visitors come to the little village to enjoy the fun.
This year, the Bun Luang and Phi Ta Khon Festival will take place from 5-7 July.
The most recognised feature of the Phi Ta Khon, or Ghost festival, is the colourful parade of locals who dance and strike poses while wearing huge masks creatively made from carved coconut-tree trunks, topped with wicker sticky-rice steamers that make them appear taller and more grotesque.
It is thought the event has its origins in a fertility festival but these days it's part of a merit-making event. It is one of the most popular festivals of Isan alongside other events, such as, the Bun Bang Fai rocket festival.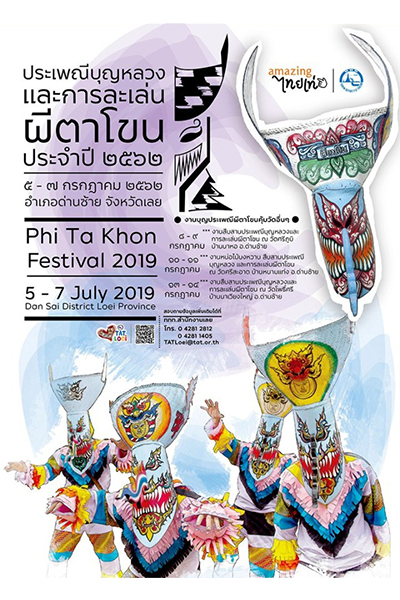 As well as the unique masked parade through the town, there are other activities including several traditional rituals and Buddhist ceremonies relating to this festival at Wat Phon Chai Temple, such as, a recitation of the thirteen sermons of Phra Vessandorn – about a previous life of the Lord Buddha.

In addition, there will be several contests including a Phi Ta Khon mask dance competition, special markets selling food and local handicrafts, live music performance and cultural shows.

Programme (in brief only)

>  Friday, July 5, 2019: Starting from 03:00 – 23:00hrs, there will be several traditional rituals and Buddhist ceremonies relating to this festival at Phon Chai Temple. The highlight is the Bun Luang opening ceremony at 10:00hrs, followed by international mask shows and cultural performances. Special events and performances at the grounds in front of Dan Sai district office are from 13:00 – 23:00hrs.

>  Saturday, July 6, 2019: The opening ceremony of the Bun Luang and Phi Ta Khon Festival starts at 10:00hrs, followed by the colourful Phi Ta Khon parade. But visitors can enjoy several parades as early as 08:00 through to 15:30hrs at several locations, including local schools and Phon Chai Temple. There's a sky diving show at 09:30hrs. On the second day, special events and performances at the grounds in front of Dan Sai district office are from 13:00 – 24:00hrs. Meanwhile, the traditional rituals and Buddhist ceremonies at Phon Chai Temple take place from 15:30 – 19:00hrs.

>  Sunday, July 7, 2019: On the last day, most activities are centred on traditional rituals and Buddhist ceremonies at Phon Chai Temple.

For more information, contact TAT Loei Office at 0-4281-2812, 0-4281-1405, or TAT Call Center at 1672.

Text and Photo Credit by Tourism Authority of Thailand Newsroom & TAT Loei Office