Bangkok River Fair : From Strangers to Neighbours – TOMORROW, August 5, 2017
The Bangkok River Fair : From Strangers to Neighbours is conceptualised based on Bangkok's past. In the old days, nearly everyone in Bangkok lived on or nearby the Chao Phraya River and canals, leading to the city being called the Venice of the East.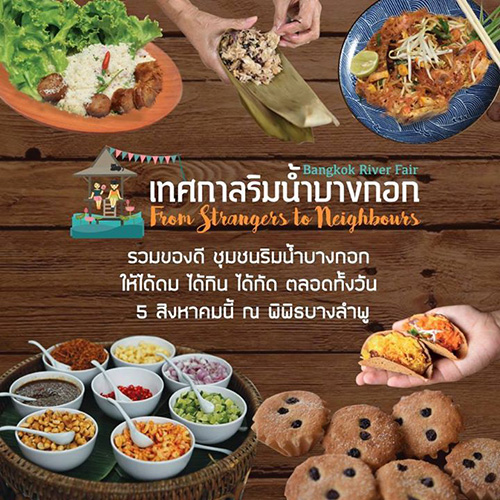 However, much of Bangkok's unique way of life on the river has vanished as the city has grown and modernised. So, to share with people about this old way of riverside living and to help preserve what remains, the Banglamphu community on the Chao Phraya River is partnering with Pipit Banglamphu – a community museum near Phra Sumen Fort on Phra Arthit Road, to arrange this events and festivals.
Local and foreign visitors are invited to this uniquely local cultural event in Bangkok and they'll get to experience the charms of a traditional Thai way of life by the river. There will be stalls selling authentic cuisine, cultural performances and displays of handicrafts and local products produced by riverside communities, some of which have been around for over 200 years, when Bangkok was a young city.
In addition, there will be a series of academic seminars which will look at ways to protect the Chao Phraya River's eco-systems and the communities that live on its banks.
The Bangkok River Fair will be held on 5 August, 2017 from 11:00 – 19:30 Hrs. The event is free of charge for all visitors.
For more information, contact TAT Bangkok Office at 0-2250-5500 ext 4545-48, or TAT Call Center at 1672.