The Annual Poi Sang Long Festival 2019 at Mae Hong Son Province on March 20, 2019 to April 22, 2019
The Annual Poi Sang Long Festival 2019 at Mae Hong Son Province on March 20, 2019 to April 22, 2019
The annual Poi Sang Long Festival is an aged-old ordination ceremony undergone by boys between 7 and 14 years of age of the Thai Yai ethic group in northern Thailand, but mostly synonymous with Mae Hong Son Province.
The annual ceremony normally takes place at every temple in Mae Hong Son, but visitors are recommended to head to Mueang and Pai districts for a more ceremonious ritual.
The ritual consists of taking novice monastic vows and participating in monastery life for a period of time. Usually, a large group of boys are ordained as novice monks at the same time, and it is believed by the Thai Yai people in Mae Hong Son that it will help gain more the result of the merit than the ordinary ordination.
The ceremony normally goes on for three days.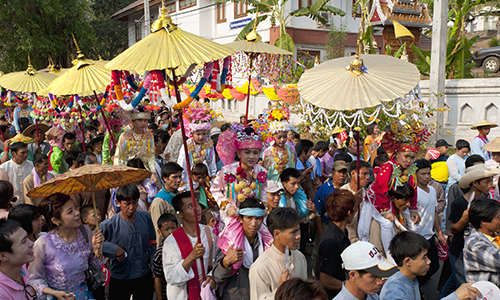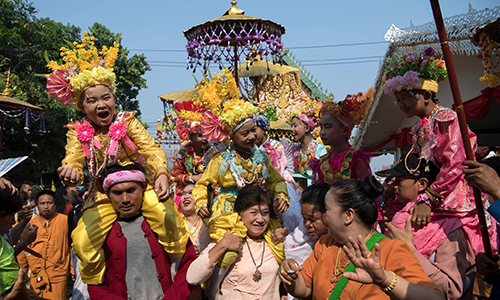 In the ritualistic ceremony of the first day, or "Sang Long Receiving Day", the boys will enter a tonsure ceremony and dress up in the Sang Long dress. Prayers are chanted that invoke the pre-enlightenment period of the Lord Buddha when he was the "Jewelled Prince". The boys will then be called "Sang Long".

On the second day or "Krua Lu Parade Day", the boys will be carried on the shoulders of their male relatives or mentors, called "Ta Pae Sang Long", as their feet are not allowed to touch the ground except at home and in temple. There will be golden umbrella or "Ti Kam" in Myanmar style to protect them from sunlight.

On the last day of the ceremony, which is called "Kam Sang", the Sang Long or novice monks will enter the monastery for a period which can vary between weeks, months or years.

This year, the grandest Poi Sang Long Festival is scheduled at Wat Hua Wiang in Mueang Mae Hong Son, from 2 to 5 April 2019, according to the Tourism Authority of Thailand (TAT) Mae Hong Son Office.

The ceremony is also scheduled at other villages and temples across Mae Hong Son. Some temples hold the event as early as 20-23 March or later, from 19-22 April.

→ Mueang District ←
•   20-23 March 2019 at Wat Pang Moo, Pang Moo Sub-district; with the Krua Lu Parade Day taking place on 22 March from 8am;
•   29-31 March 2019 at Wat Huai Sai Khao, Huai Pha Sub-district; with the Krua Lu Parade Day taking place on 30 March from 8am;
•   28-31 March 2019 at Wat Pha Bong Nuea, Pha Bong Sub-district; with the Krua Lu Parade Day taking place on 30 March from 8am;
•   2-5 April 2019 at Wat Hua Wiang, Jongkham Sub-district; with the Krua Lu Parade Day taking place on 4 April from 8am;
•   8-10 April 2019 at Wat Mai Hoong, Huai Pong Sub-district; with the Krua Lu Parade Day taking place on 9 April from 8am;
•   19-22 April 2019 at Wat Mokjampae, Mokjampae Sub-district; with the Krua Lu Parade Day taking place on 21 April from 8am.

→ Pai District ←
•   9-13 April 2019 at Wat Sri Don Chai, Pai District; with the Krua Lu Parade Day taking place on 12 April from 3pm.

Visitors can also head to other districts including Khun Yuam, Mae Sariang, Pang Mapha to witness the ceremony.

→ Khun Yuam District ←
•   25-27 March 2019 at Wat Mouy Tor, Khun Yuam Sub-district; with the Krua Lu Parade Day taking place on 26 March from 8am;
•   29-31 March 2019 at Wat Pratu Mueang, Mae Ngao Sub-district; with the Krua Lu Parade Day taking place on 30 March from 8am;
•   5-7 April 2019 at Wat Kham Nai, Khun Yuam Sub-district; with the Krua Lu Parade Day taking place on 6 April from 8am;
•   8-10 April 2019 at Wat Muang Pon, Muang Pon Sub-district; with the Krua Lu Parade Day taking place on 9 April from 8am.

→ Mae Sariang District ←
•   4-7 April 2019 at Wat Sriboonrueng, Mae Sariang Sub-district; with the Krua Lu Parade Day taking place on 6 April from 4pm;
•   5-7 April 2019 at Wat Suphanna Rang Si, Mae Sariang Sub-district; with the Krua Lu Parade Day taking place on 6 April from 4pm.

→ Pang Mapha District ←
•   29-31 March 2019 at Wat Tham Lot, Tham Lot Sub-district; with the Krua Lu Parade Day taking place on 30 March from 8am.

For more information, contact TAT Mae Hong Son Office at 053-612-982-3, TAT Call Center at 1672, or visit TAT Maehongson.

Text Credit : Tourism Authority of Thailand Newsroom
Photo Credit : TAT Mae Hong Son Office