Annual Buddhist Ritual at Khao Khitchakut in Chanthaburi Province on January 25 to March 24, 2020
Annual Buddhist Ritual at Khao Khitchakut in Chanthaburi Province on January 25 to March 24, 2020
Between Chinese New Year and Magha Puja Day (late January to March) of every year, there is a ceremony to worship the Lord Buddha's Footprint at Khao Khitchakut National Park in Chanthaburi Province. The ceremony is held every year and usually lasts for a couple of months. This year, it is scheduled to be held between January 25 to March 24.
The Buddha's Footprint at Khao Khitchakut is said to be the highest in Thailand. It is believed that taking the long journey and climbing up to reach the peak of the mountain is a good way of making merit by showing ultimate respect to the Lord Buddha. Those who make the summit, despite of the crowds and difficulties have proved their perseverance.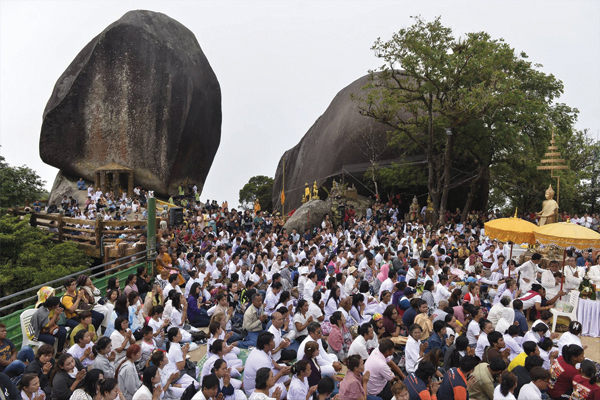 To get to the top, visitors have to start at Phluang Temple, then take a 4-wheel pickup vehicle that will take them on an eight-kilometer steep route. After that, devotees and visitors must climb a steep 1.2 kilometers to reach the peak. On the mountaintop, it is possible to spot several geological phenomena related to Buddhist myths, including a stone pagoda, the stone in an upside down monk's alms-bowl shape, the hermit cave, and gigantic stones that resemble local creatures. From the breezy peak, you can easily see Chanthaburi town.
The opening ritual will be held on January 23, 2020, and the closing ceremony is to take place on March 24, 2020. Other than during the event the park is closed to the public, so it's well worth taking advantage of this time to visit.
For more information, contact TAT Chanthaburi Office at 039-480-220, or TAT Call Center at 1672.
เครดิตภาพจากเพจ  เขาพระบาทหลวง  จันทบุรี