Thailand Cultural Music Festival 2019 at Pattaya Klang Beach
You Are Invited!
#AmazingThailand
#ThailandCulturalMusicFestival2019
The Thailand Cultural Music Festival 2019 is all set to have music lovers dancing to the beats and swaying to the rhythms of numerous Thai artists, on Friday 31 May and Saturday 1 June at Pattaya Beach.
Pattaya City and the Tourism Authority of Thailand have come together to create what they promise will be a great music event featuring some of Thailand's top performers. Names include Tata Young, Mai Charoenpura, New-Chew, Poojarn Longmai vs Kennoi Roileela, Kot-Chakrapan, Keng-Thachai, MILD vs The Rube, Nueng Apiwat, The Infinity, Bangkok Paradise Molam and more.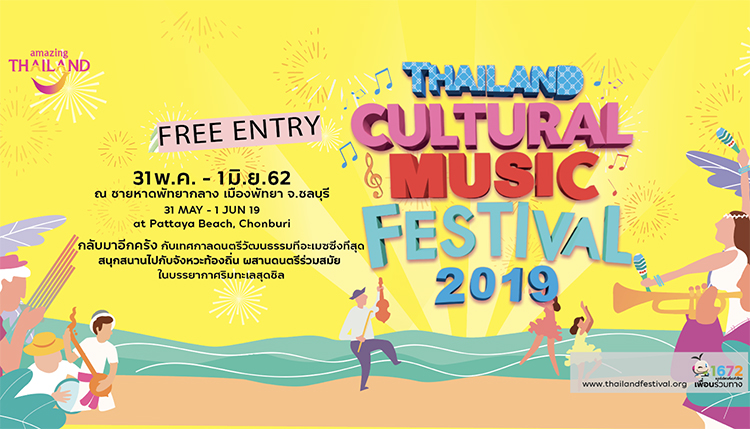 Entrance to the festival is free. On both days the event program begins at 15:00 hrs. with the food zone and art & craft zone, after which the music line-up kicks off at 16:00 hrs., and continues through to 24:00 hrs.
On the Main Stage from 20:00 hrs. to 24:00 hrs., the top five famous artists, musicians and celebrities will be performing. On the Cultural Stage from 16:00 hrs. to 20:00 hrs., there will be cultural folk songs and contemporary cultural performances from different regions. From 16:00 hrs., popular and trending artists will be playing.
Thailand's longest established seaside resort, Pattaya is 150km south of Bangkok and the trip by road takes about two hours. Buses ply the route with multiple departures throughout the day, while there's also the more convenient but more costly option of taking a taxi.
Don't Miss !!! with the most amazing cultural music event. Move to the local rhythms blended with contemporary music in relaxing atmosphere of Pattaya beach.
For more information, call TAT Bangkok Office, International Public Relations Division at +66 (0) 2250 5500 ext. 4545-48; TAT Contact Center at 1672 (calls only available in Thailand); or Live chat available via http://www.tatcontactcenter.com/en/
Text and Photo Credit by Tourism Authority of Thailand Newsroom