Sakhon Nakhon Wax Castle Festival 2017, Sakhon Nakhon Province, October 2 – 5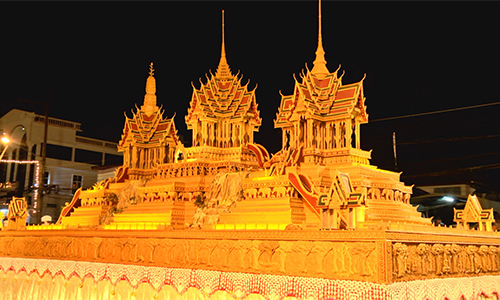 Sakhon Nakhon Wax Castle Festival 2017, Sakhon Nakhon Province, October 2 – 5
The Sakon Nakhon Wax Castle Festival is one of the most visually stunning and popular celebrations on the Thailand events calendar, with amazing wax castles and exciting long boat races on the reservoir.
It marks the end of Buddhist Lent, or Ok Phansa, when monks leave temples after the monsoon rains. Most activities and celebrations take place at local temples, like Suan Ming Mueang, Suan Somdej Phra Srinagarindra and Wat Phra That Choeng Chum Worawihan. But it is the breathtakingly detailed wax sculptures that make this local event so special and increasingly famous overseas.
Many believe wax carvers are reincarnated in heaven after death. Or if on earth as human beings, they are blessed with a happy, wealthy life.
During the Sakon Nakhon Wax Castle Festival wax sculptures take the form of entire cities, elaborate deities or shrines that are intricately carved from beeswax and paraded round town for the admiration of all.
There are also exciting boat races on the Nong Han Reservoir which attract large crowds, with crews training for months to prepare for this competition.
For more information, contact TAT Nakhon Phanom Office at 0-4251-3490-1, or TAT Call Center at 1672.