River Kwai Bridge Week and Kanchanaburi Red Cross Fair 2018 at Kanchanaburi Province on November 30 – December 9
River Kwai Bridge Week and Kanchanaburi Red Cross Fair 2018 at Kanchanaburi Province on November 30 – December 9
Take A Cool Vintage Dress # Walk On # Selfie # Lull With Free 90's Concert
The Tourism Authority of Thailand (TAT) Kanchanaburi Office is organising the River Kwai Bridge Week and Kanchanaburi Red Cross Fair 2018 from 30 November to 9 December at the River Kwai Bridge and Klip Bua Stadium in Mueang District, Kanchanaburi. The annual River Kwai Bridge Week is organised with an aim of promoting tourism and creating greater awareness of Kanchanaburi as a destination for both domestic and international tourists.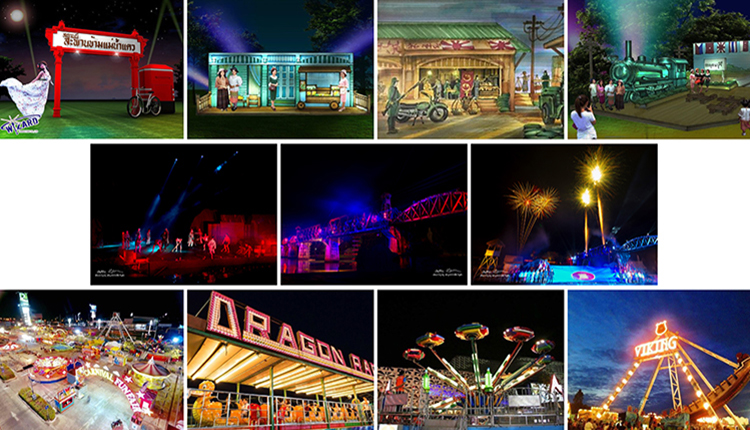 Highlight is the light-and-sound show that tells the stories of the World War II in honour of the prisoners of war who built the infamous Death Railway, the Bridge on the River Kwai and the Hellfire Pass. The show will present the story on the construction of the Death Railway. The schedule and ticket price for the light-and-sound shows will be released later.
The event will be held in conjunction with the Kanchanaburi Red Cross Fair 2018, offering plenty of shopping opportunity for local products, along with a range of entertainments, such as exhibitions from governmental organisations and educational institutions, a mini motor show, concert (Free Concert 90's & Peace Concert 2018 @ 250 Baht/Day or 2,000 Baht/10 Days), and cultural performances.

While in Kanchanaburi, visitors can also visit other famous attractions including Srinakharin Dam, Vajiralongkorn Dam, Sai Yok Noi and Yai Waterfalls, Erawan Waterfall, Mon Bridge, Mueang Sing Historical Park, Three Pagodas Pass, Wat Wang Wiwekaram, Underwater City, The Bridge of the River Kwai, Kanchanaburi War Cemetery, and World War II Museum and Art Gallery (more details at www.tourismthailand.org/Kanchanaburi).
For more information, contact TAT Kanchanaburi Office at 034-511-200, 034-512-500, TAT Call Center at 1672, or visit http://www.facebook.com/งานสัปดาห์สะพานข้ามแม่น้ำแควและงานกาชาดจังหวัดกาญจนบุรี.
Photo Credit : TAT Kanchanaburi Office & Facebookงานสัปดาห์สะพานข้ามแม่น้ำแควและงานกาชาดจังหวัดกาญจนบุรี