Poi Sang Long Festival 2018 at Mae Hong Son Province on April 2 – 6
Poi Sang Long Festival 2018 at Mae Hong Son Province on April 2 – 6
The Poi Sang Long Festival is a unique Buddhist ordination ritual which ordains young males into monkhood according to Thai Yai's beliefs that it will gain more the result of the merit than the ordinary ordination. The annual ceremony normally takes place at every temple in Mae Hong Son, but visitors are recommended to head to Muang District. This year will held at Wat Klang Thung near Mae Hong Son Airport.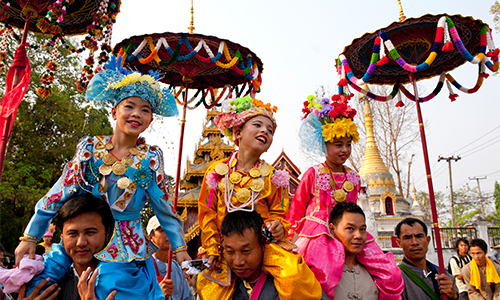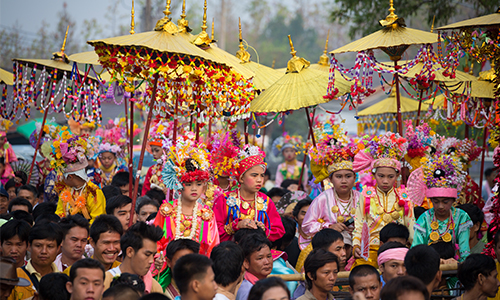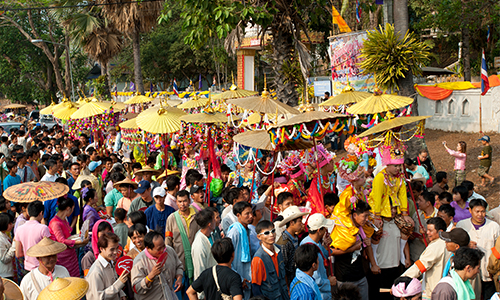 Also known as the 'Festival of the Crystal Sons', boys between the ages of 7-14 prepare to enter the temple where they learn the teachings of Buddha and create merit for their families. In the ritualistic ceremony of the first day evening, the boys head is shaved by family members; on the second day, traditional gown and garb or the 'Sang Long' dress are adorned, and prayers are chanted that invoke the pre-enlightenment period of the Lord Buddha when he was the 'Jewelled Prince'. The boys will then be called 'Sang Long'. On the third day, Sang Long will visit family members. On the fourth day or 'Krua Lu Parade Day', the boys will be carried on the shoulders of their male relatives or mentors, called 'Ta Pae Sang Long', as their feet are not allowed to touch the ground except at home and in temple. There will be golden umbrella or 'Ti Kam' in Myanmar style to protect them from sunlight. On the last day of the ceremony, which is called 'Kam Sang', the Sang Long or novice monks will enter the monastery for a period which can vary between weeks, months or years.
The Poi Sang Long ceremony is a tradition that dates back to the 'Tai Yai' and 'Shan' ancestors who migrated through parts of China and Myanmar settling in the northern-most locations of Thailand.
For more information, contact TAT Mae Hong Son Office at 0-5361-2982-3, or TAT Call Center at 1672.
Photo Credit : TAT Mae Hong Son Office