Phanom Rung Historical Park Festival 2018 at Buriram Province on March 30 – April 1
Phanom Rung Historical Park Festival 2018 at Buriram Province on March 30 – April 1
In Hindu and Buddhist cosmology, mountains are believed to be homes to the gods. Prasat Hin Khao Phanom Rung, a magnificent temple sanctuary set on the summit of Phanom Rung Hill, was built between the 10th and 13th centuries. According to the stone inscriptions in Sanskrit and Khmer found at the site, the original name of the temple complex is Phanom Rung, Khmer for big mountain. A religious sanctuary dedicated to the Hindu god, Shiva, Prasat Hin Khao Phanom Rung symbolizes Mount Kailasa, the heavenly abode of Shiva. Phanom Rung Hill rises 350 metres above the surrounding plain. Astrologers have also predicted that an extraordinary astro-archaeological phenomenon will occur at sunrise. The doors of the temple sanctuary are so perfectly aligned that during this period, at sunrise on a cloudless day with clear blue skies, the sun's rays will shine through all fifteen doorways of the sanctuary in a single shaft of light (plan to arrive between sunrise and before 6am).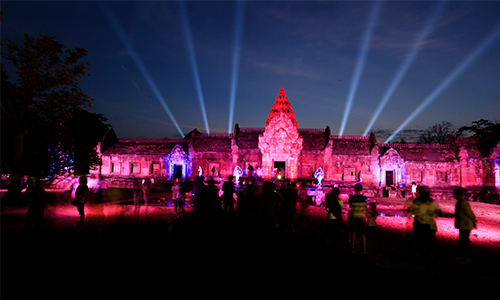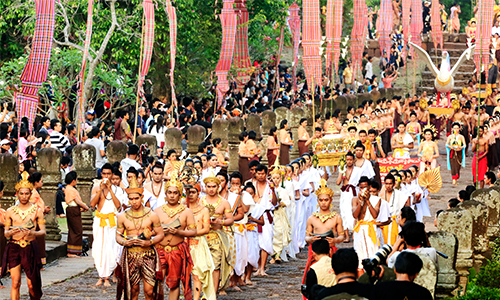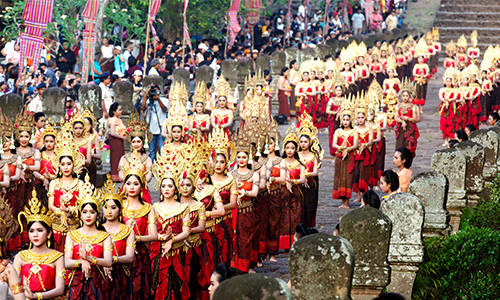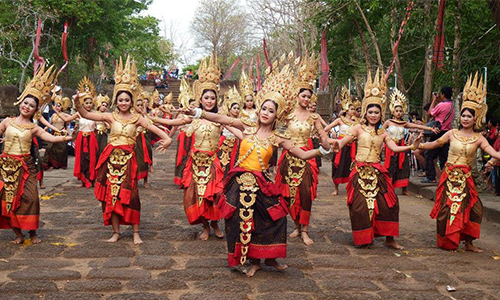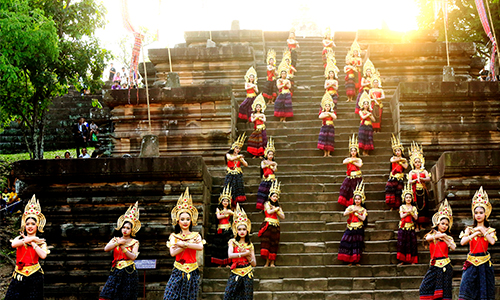 The annual Phanom Rung Historical Park Festival is held every first weekend of April to celebrate the unusual phenomenon when the rays of the rising sun shine through all of the Khmer temple's 15 doorways at the same time. This awe-inspiring spectacle takes place four times a year at the Phanom Rung Sanctuary and is believed to bring great blessings upon everyone who is there to witness it. For those who wish to see the magic happening in 2018, make sure to be present at the sanctuary on March 30 – April 1.
Several other activities will also take place as part of the event. Not to be missed include the light and sound presentation highlighting the legend of Phanom Rung Sanctuary, a ritual to worship the gods and celestial beings, the Apsara dance competition, and the drawing demonstration of the Phanom Rung Sancturary. Visitors can also enjoy shopping for one-tambon-one-product souvenirs or try a wide range of local cuisine at the traditional-style flea market.
Having visited the Phanom Rung Sanctuary, tourists can also explore other attractions in vicinity including Muang Tam Sanctuary in Prakhonchai district, Wat Khao Angkarn – the Buddhist temple on an extinct volcano, the silk and cotton weaving village of Tambon Charoensuk, and Lamnangrong dam of Non Dindaeng district. Another awe-inspiring place of interest in Buriram is the New I-Mobile Stadium, which is currently the largest football stadium in Thailand and becoming a new magnet attracting visitors to Buriram. This 32,600-seat football stadium is owned by the Thai Premier League club Buriram United – a rising star football club in Thailand.
For more information, contact TAT Surin Office at 0-4451-4447-8, or TAT Call Center at 1672.
Photo Credit : TAT Surin Office