Pattaya theme parks and gardens headed to attract Middle East family market
Text & Photos by Tourism Authority of Thailand, TAT Newsroom
Dubai, 25 April, 2017 – Thailand's best known beach resort of Pattaya made a strong pitch for attracting the long-stay, high-spending Middle East family market at the Arabian Travel Market 2017 (ATM) during 24-27 April in Dubai.
A total of 10 tourism operators in Pattaya presented at the popular annual trade show, which claims to be the leading event of its kind in the Gulf region.
The list of 10 exhibitors from Pattaya includes four attractions: Cartoon Network Amazone Water Park; Nongnooch Pattaya Garden and Resort; Ramayana Water Park; and Underwater World. Some highlights of the attractions: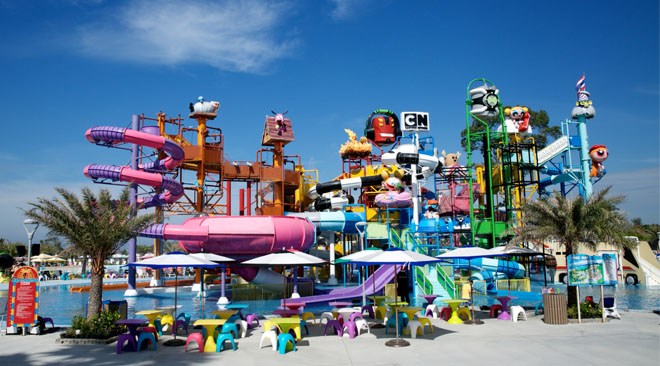 Cartoon Network Amazone
Cartoon Network Amazone: The world's first Cartoon Network themed water park. From ride thrills to poolside chills, children can play at the only waterpark in Pattaya with live surfing, 10 exciting entertainment zones, and the world's only 360-degree dome slide.
Ramayana Water Park: An exhilarating water park with 21 awesome water rides, 2 dedicated kids zones, a record big double wave pool, an amazing ride in the lazy river, relaxation and activity pools plus more.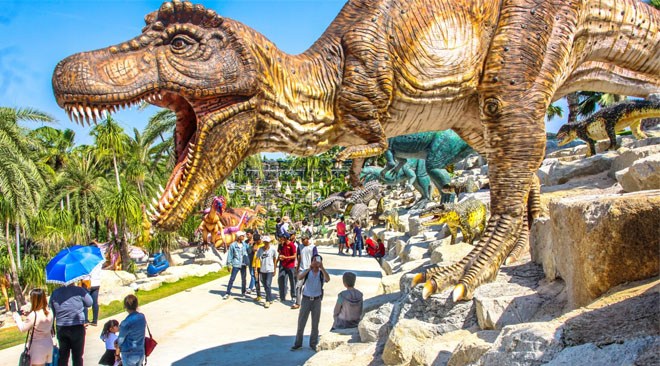 Dinosaur Valley, a new attraction at Nongnooch Pattaya Garden and Resort
Nongnooch Pattaya Garden & Resort: A superb garden and green sanctuary spread over 600 acres of rolling hills and valleys with wildlife and an unmatched range of flora and fauna. www.nongnoochtropicalgarden.com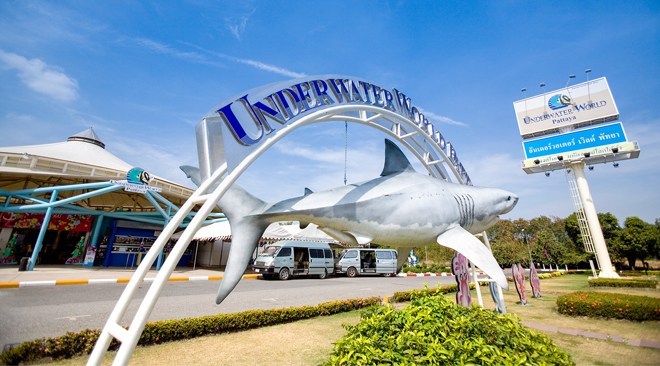 Underwater World Pattaya
Underwater World Pattaya: A leisure attraction showcasing the rich variety of marine life,  brightly coloured corals, a spectacular 100 metre-long tunnel with acrylic windows, home to great shoals of fish, prowling predators and a host of other creatures.
Pattaya is a family destination. It is also a symbol of the tremendous growth in the Thai tourism industry. Thailand's first beach resort to attract international visitors, it has grown over the last three decades from a small fishing village into a world famous resort city.
Easy accessible from Bangkok by a fast, modern motorway, Pattaya boasts a world-class convention centre, a wide range of accommodation options, over 300 restaurants, large, modern shopping malls, and a broad range of activities from water-sports to go-kart racing.
A wide range of tours feature visits to temples, orchid plantations, elephant camps, cultural shows, a tiger reserve, sapphire mines, waterfalls and offshore islands. Over 12 golf courses, including some of the best in Thailand, are all within a short drive from Pattaya.
In 2015, international visitor arrivals to Pattaya totalled 6,851,461 an increase of 7.5% over the year 2014. Visitors had an average length of stay of 3.6 days and an average daily expenditure per person 4,301.37 Baht (124.6 USD), and generated tourism revenue of more than 106.607 billion Baht (3.09 Billion USD). 
For more information, contact Tourism Authority of Thailand, International Public Relations Division at +66 (0) 2250 5500 ext 4545-48, e-mail at prdiv@tat.or.th, or visit www.tatnews.org.