Nakhon Si Thammarat's Khanom Festival 2018 on Saturday, June 30, 2018
Nakhon Si Thammarat's Khanom Festival 2018 on Saturday, June 30, 2018
The Khanom Festival is back for its sixth year and scheduled to take place on Saturday, June 30, 2018 at Khanom's famous Na Dan Beach in Nakhon Si Thammarat.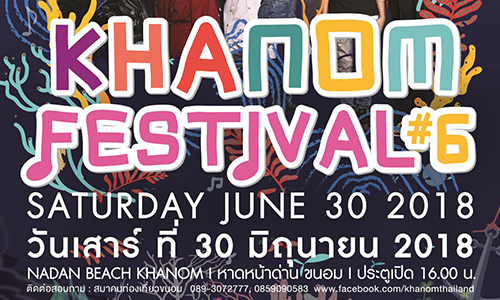 Supported once again by the Khanom Tourism Association in cooperation with many generous sponsors, this year's fun music festival features performances by popular Thai singers and bands including Atom Chanakan, Wan Thanakrit, Room 39, Paradox, Getsunova, 25 Hours and more.
The festival runs from 16:00 to 24:00hrs. Advanced reservation tickets priced at 900 Baht from now until June 20. After June 20, tickets priced at 1,200 Baht.
Nakhon Si Thammarat is the second largest province in southern Thailand, located 780 kilometers south of Bangkok along the Gulf of Thailand within the lush interior of the Isthmus of Kra. It boasts many undeveloped beaches as well as two national parks within an interior of verdant jungles abundant with vegetation, beautiful waterfalls, and exotic wildlife.
The Khanom Festival takes place in Khanom District, which boasts a series of beautiful beaches such as Na Dan, Nai Praet and Nai Phlao.
When attending the Khanom Festival, visitors may also want to visit the town's famous landmarks including Prathap Cape at the village of Thong Nian. Here, the villagers turn from fishery to tourism, offering a popular sightseeing tour that includes pink-dolphin watching, the fresh water pond of Khanom Sea, Luang Pu Tuad Shrine, Phap Pha Mountain, the Islands of Tha Rai and Phi, and snorkeling and fishing. Must buy product is the famous Khanom's shrimp paste.
For more information, contact Khanom Tourism Association at 085-909-0583, 089-307-2777, visit facebook at www.facebook.com/khanomthailand, or TAT Call Center at 1672.
Text Credit : Tourism Authority of Thailand Newsroom
Photo Credit : Khanom Tourism Association