Nakhon Phanom Illuminated Boat Procession 2017, Nakhon Phanom Province, September 28 – October 6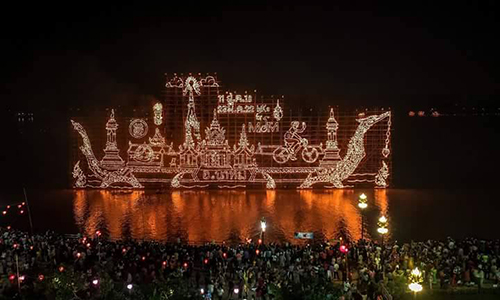 Nakhon Phanom Illuminated Boat Procession 2017
Nakhon Phanom Province
September 28 – October 6
The Lai Reua Fai, Nakhon Phanom's famous and mythological annual illuminated boats festival, is considered one of the Kingdom's most spectacular cultural festivals to mark the end of Buddhist Lent, or Ok Phansa.
The festival is held annually during the eleventh lunar month when Thai Buddhists in this northeastern province launch the Lai Reua Fai to float them down the Mekong River. Residents pay respect to the Lord Buddha and make offerings to mythical serpents ('Naga' in Thai) which supposedly reside in the mighty river and its many tributaries.
It is also believed that this ceremony washes sadness and life's troubles down the river while also bringing good fortune to participants and believers.
Local people of Nakhon Phanom gather together with Buddhist monks from each village temple to spectacularly decorate the boats and rafts weeks before the festival takes place. They then load them with food, flowers, incense sticks, candles and handmade lanterns. Once lit, these illuminated boats are then launched creating a spectacular visual spectacle as they float down the legendary Mekong River.
Highlights at this year's Nakhon Phanom Illuminated Boat Procession Festival include:
Daily Lai Reua Fai Illuminated Boat Processions on the Mekong River. Visitors can view illuminated boats from around Nakhon Phanom, cultural performances, music and entertainment plus a walking street featuring local food and handicrafts over nine days.
Historic Lai Reua Fai daily display at Wat Pho Sri Temple.
Cultural performance paying respect to Phra That Phanom at Wat Phra That Phanom (5 October).
Illuminated boat street procession at Nakhon Phanom Municipality (5 October).
Lan Tawan Boek Fa music and cultural festival (5 October).
Long boat racing at Wat Phra In Plaeng from 2 to 4 October.
Lan Phanom Naga local food fair from 30 September to 2 October.
Tak Bat Devo Festival at Lan Phanom Naga (6 October).
For more information, contact TAT Nakhon Phanom Office at 0-4251-3490-1, or TAT Call Center at 1672.