The Mon Floating Boat Festival, Wang Kae Village, Sangkhlaburi, Kanchanaburi Province, September 4 – 6, 2017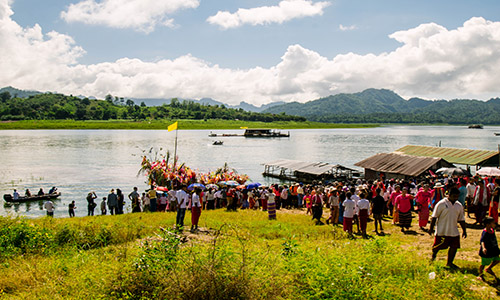 The Mon Floating Boat Festival, Wang Kae Village, Sangkhlaburi, Kanchanaburi Province, September 4 – 6, 2017
Sangkhlaburi, with its famous wooden bridge and tranquil setting, is always popular with tourists seeking out photogenic destinations. For those seeking a splash of colour and want to see a unique local tradition while learning about Mon People in Thailand, go there during the annual Mon Floating Boat Festival.
This important Mon Festive is organised in co-operation with resident communities who put in several months hard work to create impressive full-sized boats called Pohamord by the Mon. Local tradition requires that after a lively two-day celebration these bamboo boats are then loaded with food and released to float downstream. The traditional belief is that the offerings pay respect and feed deceased ancestors and friends. It's a unique regional event and one of the most memorable events and festivals in Thailand.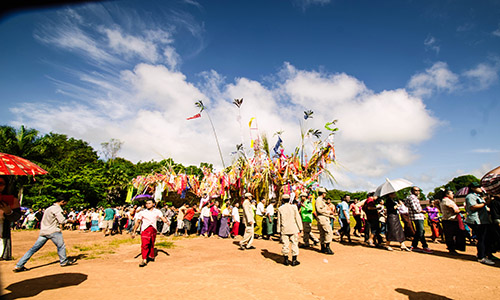 One of the legends behind the floating boat festival dates to the Mon Hanthawaddy Kingdom (1369-1539) and recalls a time when local monks had to make a dangerous crossing to Sri Lanka. The pilgrims drowned on the way back when their boat sank in bad weather. The festival is said to commemorate their memory and also banish evil from Mon communities. Like many Thai Festivals, the event is also seen as a way of making merit and international visitors are welcome to join.
For more information, contact TAT Kanchanaburi Office at 0-3451-1200, 0-3451-2500, or TAT Call Center at 1672.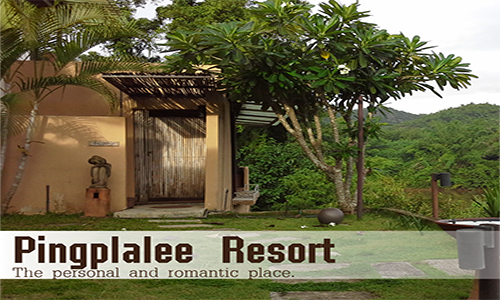 http://www.facebook.com/PingplaleeResort
http://www.pingplaleeresort.com