Make a note in your calendars! Hua Hin International Jazz Festival 2019, June 7 – 8 @ Hua Hin Beach
Hua Hin International Jazz Festival 2019
June 7 – 8  I  2 days  I  2 stages  I  50 concerts
Taking place in the picturesque setting of Hua Hin Beach, along Hua Hin coast in front of the iconic Centara Grand Beach Resort & Villas Hua Hin. The Hua Hin International Jazz Festival 2019 promises to thrill music lovers with an outstanding lineup of Thai and international artists during June 7 – 8. Entrance to this two day not-to-be-missed event is free.
Premier Thai saxophonist Koh Mr. Saxman will again be performing at this year's edition of the annual festival, while The KING of Samba will bring for the first time to Hua Hin their Brazilian jazz tunes and one of the world's best bassists Rubem Farias will take to the stage.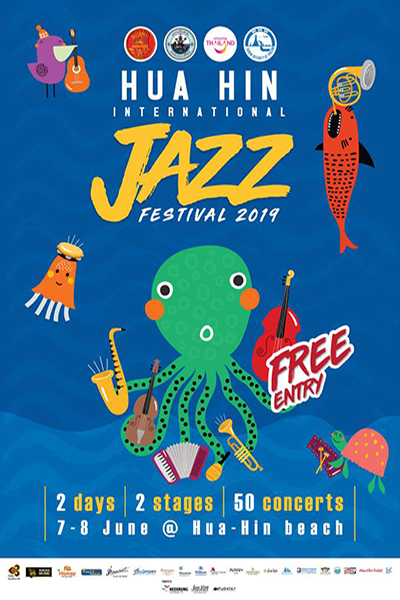 The lineup of Thai and international performers includes New York Round Midnight, The Shanghai Sister, The Waltz, T-Bone, J.Jazz Super Project, Beets Brothers, Deborah Brown, Mitch Frohman, Richard Jackson, Denzo Hines, Filo Machado, Jirapan Ansvananda, Pom Autobahn, Viyada Komarakul Na Nakorn, Patchara Dila, Izaline Calister, ETC. and T-Bone.
The Hua Hin International Jazz Festival 2019 will feature two stages on which some 50 concerts will entertain audiences. Between them, the artists and performers will offer a range of music ranging from Latin jazz, fusion jazz and jazz bigband to R&B, reggae and ska pop.
The event's main sponsors include the Tourism Authority of Thailand and Thai Airways International.
A popular beach resort offering a quieter and more laid-back atmosphere than Phuket or Samui, Hua Hin is a three hour drive from Bangkok in the province of Prachuap Khiri Khan and there are bus and train services operating between the two points.
June 7 (Friday)
17:30 – 18:20  Mitch Frohman (USA) & The Del Ritmo (Chiang Mai) / Latin Jazz
18:30 – 19:00  Opening Ceremony
19:00 – 19:50  New York Round Midnight Feat. Izaline Calister, Deborah Brown (Netherlands) / Jazz Bigband
20:15 – 21:00  Shanghai Sister (Malaysia) / Shanghai Jazz
21:20 – 21:50  The Waltz, Frank Herrgott Feat. Richard Jackson, Rubem Fairias / Jazz Fusion
22:00 – 22:40  The Glass Jirapan Ansvananda, Viyada Komarakul Na Nakorn, Patchara Dila, Pom Autobahn / POP Jazz & Fusion
23:00 – 24:00  ETC feat. Denzo Hines (Australia) / Fusion Jazz, R&B
June 8 (Saturday)
17:30 – 18:10  Bigband Wang Klai Kangwon School / Jazz Bigband
18:20 – 18:45  Hua Hin International Saxophone & Jazz Summit Feat. Alexander Beets, Krit Buranawittayawut, Marat Yuldybaev, Mitch Frohman / Jazz
19:00 – 19:40  The King of Samba (Brazil) Feat. Rubem Farias & Filo' Machado / Brazilian Jazz
20:00 – 20:40  Beets Brother Feat. Deborah Brown / Jazz
21:00 – 21:50  J.Jazz Super Project (The Next Century of J.Jazz) / Jazz & Fusion / J.Fusion Jazz?
22:00 – 22:50  Sound of Siam & Pui Duangpon invites, Richard Jackson / Fusion Jazz R&B & World Music
23:00 – 23:45  T-Bone / Ska Reggae
For more information, contact TAT Prachuap Khiri Khan Office at 0-3251-3885, 0-3251-3871, TAT Call Center at 1672, or visit www.facebook.com/HuaHinJazzFest.
Text and Photo Credit by Tourism Authority of Thailand Newsroom