KRUNGTHEP THARA, Tastes of the World at Central Bangkok
CentralWorld invites you to join Krungthep Thara under the concept of 'Docking at 5 piers, tasting food at 5 communities' from 29th June – 30th July, 2017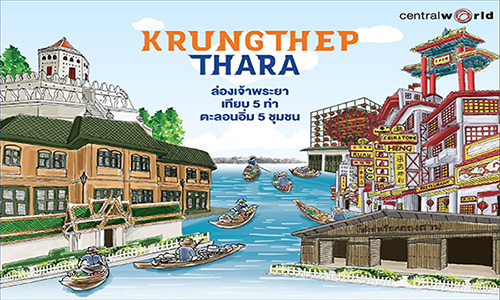 On the occasion of the 235th anniversary of the establishment of the Rattanakosin Kingdom, CentralWorld, the Ministry of Culture and the Bangkok Metropolitan Administration are holding a national event as part of the celebrations for the capital of the country in 'Krungthep Thara', during the 'Tastes of The World at Central Bangkok' festival, which will be held throughout July. A replica of a Rattanakosin Kingdom riverside market will gather special and delicious dishes from popular restaurants across the capital. Experience the enduring traditional way of life along the Chao Phraya River that helped nourish the lives of the people of Bangkok. The event is being held under the concept of 'Docking at 5 piers, tasting food at 5 communities'. The five piers are Phra Arthit Pier, Wang Lang Pier, Rachinee Pier, Ratchawong Pier and Si Phraya-Klong San Pier.
Pakorn Pattanapat, Senior Executive Vice President of Operations of Central Pattana plc said: "As the government held celebration events for the 235th anniversary of the establishment of the Rattanakosin Kingdom on 21st April 2017 (called Rattanakosin 235th Anniversary), CentralWorld shopping center would like to be a part of the capital of Thailand's anniversary celebrations by holding 'Krungthep Thara@CentralWorld during the 'Tastes of The World at Central Bangkok' festival, which will be held from 29th June – 30th July, 2017 at CentralWorld Square, presenting Thai arts and cultural activities. The restaurants will be grouped and presented under the concept of 'Docking at 5 piers, tasting food at 5 communities'.
Phra Arthit Pier – Cultural Community: A Shumen model fortress (the symbol of Phra Arthit Pier) will be presented at the main stage. Enjoy crispy Thai pancakes from the Mae Pra Pha shop, which have been available ever since World War II. The ancient recipe for the crispy pancake base is made from flour and beans. Next there is a layer of egg, which is then sugar coated. There are two toppings: sweet and salty. Sweet toppings include egg threads (Thai dessert) and dried persimmon, while salty toppings include fried shrimp with coconut, chopped Kaffir lime leaves and spring onion on top. Kraisri restaurant from Bang Lamphu will introduce Hong Kong style Thai food: Har Kow, steamed dumplings, dim sum and other Thai food and all will be reasonably priced.
Wang Lang Pier – A Community in Phra Nakhon District: There will be replica models of landmarks from the community around Wang Lang Pier, with architecture from the King Rama V period combining both traditional Thai and European designs. This zone will gather a lot of delicious foods for you to taste. Traditional Thai dresses are available for rent in this zone and are ideal for photo opportunities in the event area or in a more private early-photography style studio. Enjoy great food presented in this zone from popular restaurants such as Roti Mataba Tha Pra Chan, Thai coconut pancakes from Pa Tew shop. The permanent Pa Tew shop is located next to Siriraj Hospital. Highlights of the snacks on offer are: soft sticky dough with a variety of fillings such as egg threads, raisins, coconut and sesame, Med Kanoon (Thai mung bean balls) and Thai custard.
In addition, there will also be a craft demonstration by students from the Royal Vocational Skills College. This will help to teach and maintain the traditional Thai culture of women's crafts and spread the knowledge of these crafts, especially for those who want to pursue a career in this field. Hua Khon Ban Surajit will demonstrate a traditional Thai mask performance and Baan Don Kai Dee Benjarong Porcelain Village from Kratumban District will demonstrate Bencharong porcelain painting. Their painted Benjarong Porcelain is a five-star OTOP product of international standard, with a unique pattern and design in five main colours. Gold painting is used to enhance the beauty of the pattern. Representatives from Nonthaburi province will bring a lot of crafts and items to the event, beginning with the Handicraft Pottery Center at Koh Kret, which will demonstrate various interesting crafts and traditional pottery making, passed on from Mon ancestors who migrated to Koh Kret, Nonthaburi province. Taste Nitsawan's Khanom Khai Pla (rice flour mixed with toddy palm and shredded coconut) available in two flavours: toddy palm and taro.
Rachinee Pier – Yodpiman Market: Kudi Chin Cake, a 200-year-old cake recipe derived from the Portuguese after they originally settled in the Kudi Chin Community during the Ayutthaya period. Nang Loeng's fried bananas are a delicious, crispy, aromatic treat, and will be served at the event by 'pink-aproned sellers'. The permanent Nang Loeng shop is on Nakhon Sawan-Nang Loeng Road. Enjoy Suan Mali's chicken noodles, which are cooked in the pan using a charcoal stove with no excess oil and which smell great. Rod Dee Ded by Nop, the legend of beef noodles from the Sam Yan area, has passed on amazing flavors from generation to generation for more than 50 years. Changing originally from a plain beef noodles restaurant to a premium beef noodles and hot pot restaurant, there are menus that serve imported beef and export quality pork. Enjoy even more delicious food at affordable prices. Sethee's Thai coconut pudding with nine toppings is made from 100% red-brown Jasmine rice, and concentrated coconut milk, with various choices of toppings such as sweet corn, egg threads, or taro etc. There will also be a florists' area in this zone.
Ratchawong Pier – Chinatown Community: You will find many enduring restaurants from the Yaowarat (Chinatown) area here in this zone. Nai Yong Curry, which has been open for over 80 years, will present a selection of their signature dishes: pork curry with pumpkin, and soft pork tendon curry. Xie Shark Fin restaurant and Khan Ki Nam Tao Thong will also be in this zone. The Tasty Toast shop from Chinatown will present their crispy-on-the-outside and soft-in-the-middle toast, with nine topping choices for you to choose from, including milk, chocolate, Thai custard, sugar, roasted chili paste, strawberry jam, peanut, pineapple and marmalade. Sweet Time will bring their popular Chinese-style dessert menus such as cantaloupe sago with coconut milk, black sesame dumplings in ginger tea, bird's nest beverage with gingko, and gingko with milk. Che Muai's Mi Wan (sweet noodle dessert) is another booth to look out for.
Last but not least Si Phraya-Klong San Pier – a Historic Riverside Community: In this zone you will discover so many delicious items from the pier and feel as if you are really aboard the ferry and on the way there yourself! Enjoy Bualoi Kaikem (rice dumpling in coconut milk with salted eggs from Klong San Pier, Oki Moo Sa Tae (pork satay), which has been open for over 60 years at Din Daeng Pier Soi 11. Besides pork satay, they also serve a delicious liver satay. More delicious foods in this zone include Chao Lay's giant pan fried mussels, Chonicha's peanut crisp candy and St. Louis coconut ice cream with egg yolk, an ice-cream vendor that has been open for over 30 years serving delicious coconut ice-cream with egg yolk on top, plus the toppings of your choice.
This event will make you feel as if you are cruising along the Chao Phraya River and docking at each pier to try all the styles of delicious foods, so join 'Krungthep Thara@CentralWorld' today until 30th July, 2017 at CentralWorld Square.