Khaosan, One of the Most Famous Walking Street in Bangkok
Khaosan, One of the Most Famous Walking Street in Bangkok
Khaosan Road is a short street; small road; located in the Bang Lamphu area of Phra Nakhon District. It was constructed in 1892 during the reign of Rama V, in former times the street was a major Bangkok rice market. But at present, Khaosan Road become one of the most famous places in Bangkok.
Khaosan Road and the area surrounding, it is a destination for independent travelers (especially backpackers). It is a carnival-like scene riddled with guest houses, hostels, hotels, street food, local fruits, beer gardens, nightclubs, bars, restaurants, trendy cafés, coffee shops, internet cafés, travel agencies, tailors, cheap clothing, tattoo parlors, spa, used bookstores, unlicensed CDs/DVDs, souvenir sellers, handicrafts, paintings, hair braiders, fortune tellers, con artists, falafel stands, and other useful backpacker items. Since this is such a popular place, prices will be a bit high, so you will have a challenge bargaining. The only way to guide Khaosan Road itself is by foot.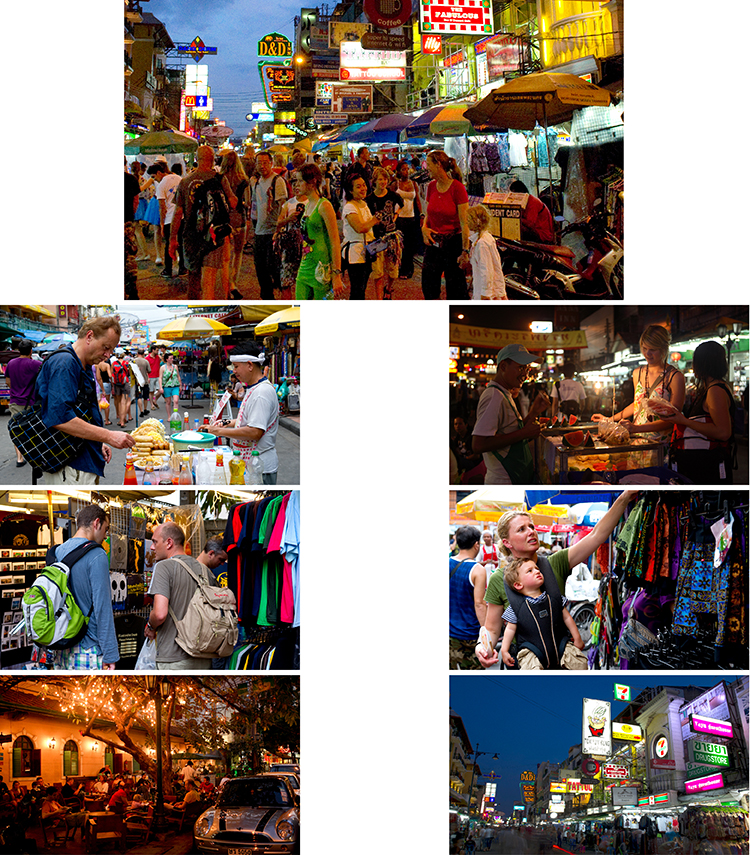 Khaosan Road never sleeps so you will find people walking the streets, partying, or just hanging around any time of the day. It is a very hippie road where everything is open 24h. There are a lot of shops and restaurants where you can spend your time enjoying a lot. Hair beading is another thing women love to do here. The clubs/bars/pubs are always turning up and have great music at night. This is the place where no one stops you to dance right in the middle of the road. At night so crowded with many people. Some clubs/bars/pubs close around 2am, but after that, the patrons flood the street by moving the party outside.
Located so close Khaosan Road is Soi Rambuttri. Today, Soi Rambuttri is home to hostels, guest houses, boutique hotels, bars, Thai massage services, 24 hour restaurants, and many street food stalls, which are well known among tourists. Many smaller guest houses and budget hotels can be found in Soi Rambuttri, this tiny street is a welcome retreat from the chaos of downtown Bangkok. A lot of restaurants stand for you to choose; 'Bombay Blues' popular little Indian restaurant; 'Madame Musur' great cocktails & yummy Northern Thai food; 'Oh My Cod! British Café' fish and chips, pies, baked potatoes, Thai food; 'Pen Thai Food' fantastic sit down street kitchen; and etc. All along Soi Rambuttri and the area surrounding, there is amazing street food for you to try such as barbeque; spring rolls; pad thai… Just a few minutes walk, you can reach some of the most famous places in Bangkok. They are easy to get to from Soi Rambuttri by boat, tuk-tuk, or your favourite, on foot. Agree a price with a tuk-tuk driver before setting off; and when it comes to taxi drivers always insist he switch his metre on.

The places nearby Khaosan Road & Soi Rambuttri are :
Wat Chana Songkram
Wat Chana Songkram is located on Chakra Pong Road, Bang Lamphu, Phra Nakhon District, near Khaosan Road, and Pinklao bridge, Bangkok. The history of this temple traces back to when Somdet Phra Phutta Yod Fah Chulalok Maharaj, the first king of Chakri dynasty, aimed to establish a kingdom that resembled Ayutthaya kingdom as much as he could. Wat Chana Songkram is situated near the Royal Palace. It was built in Ayutthaya period, with no any evidence regarding its construction history. Initially, it was called 'Wat Klang Na' (or the temple in the middle of the rice farm). King Rama took it under the renovation, and bestowed a new proper name of the temple as 'Wat Tong Pu'. He appointed Wat Chana Songkram to be the temple for Raman or Mon monks, similar to Wat Tong Pu in Ayutthaya period. The king aimed to praise those Raman soldiers in the army of Somdet Phra Bovornraratchao Maha Surasinghanat, who was the major force fighting against Burmese in the Nine Armies War (Burmo-Siamese War) in 1785, and also battles at Ta Din Daeng, and Sam Sop (1786), and Nakorn Lampang Pasang old city (1787). Subsequently, Prince Maha Surasinghanat restored Wat Tong Pu, and donated to King Rama I. The king then lifted it to be the royal monastery, and bestowed a new name as 'Wat Chana Songkram' (the temple of ) in commemoration of the victory of Prince Maha Surasinghanat who defeated the Burmese army 3 times. Later, Wat Chana Songkram has been continuously renovated, especially during the reign of King Mongkut (King Rama VI). He first begun building ash containers for the royal members in Prince of the Rear Palace's family, and situated them at the back balcony of Phra Ubosot, as the initiatives of Phra Chula Chom Klao Chao Yu Hua (King Rama V). Queen Somdet Phra Sri Patcharin had granted her own assets to Prince Kritsada Piniharn Krom Phra Nares Worarit to run the construction. However, the construction was completed in the reign of Phrabat Somdet Phra Pok Klao Chao Yu Hua, who donated his wealth to the Royal Institute in establishing the temple. In that time, Prince Krom Phraya Damrong Rachanupab was the minister of the Royal Institute, and Prince Krom Phraya Narisara Nuwattiwong carried out the project. After that, a ceremony of transporting the ash containers of the royal members from the rear palace to the temple was held in 1927. Wat Chana Songkram is open for visitors, and travelers everyday, with no any admission fee.
Santichaiprakarn Pavilion and Public Park
Sat on the hip dining street of Phra Arthit Road, near Khaosan Road tourist's neighborhood, Santichaiprakarn is not only the green space of Bang Lamphu neighborhood but it eventually hosts a series of cultural activities and performances for locals and visitors in the cooler months of the year (Nov-Dec). The park was transformed from an abandoned space by the Chao Phraya River to celebrate HM the King's 60th birthday in 1999. Sitting at the center is the historic Phra Sumane Fort, one of few old forts left in Bangkok, surrounded by a pleasant atmosphere of tropical trees. It is also an ideal spot to unwind with the views of Chao Phraya River, Pinklao and Rama VIII bridges.
For more information, contact TAT Call Center at 1672.
Photo Credit : Tourism Authority of Thailand