Kaeng Song Coffee Sipping and Khek River Rafting Festival 2017 from July to October at Phitsanulok Province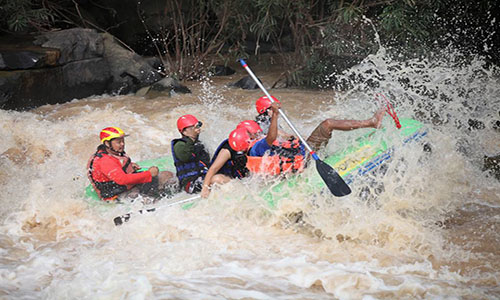 One fascinating way that visitors can enjoy the rainy season and experience a taste of local culture is to visit the Kaeng Song Coffee Sipping and Khek River Rafting Festival which takes place annually in the province of Phitsanulok.
The Khek River can offer rafting from level 1-5. For the distance of eight-kilometers, rafters will have to navigate 18 challenging rapids. The whole course takes a few exhilarating hours, depending on the intensity of the current and the amount of rain. The Khek River is regarded as one of the top-five white water rafting routes in Thailand. The route covers a distance of 8km along the scenic view and it takes about 2-3 hours to navigate. This river has many steep turns and thrilling rapids to keep adrenalin levels up. The higher water levels during the rainy season can promise moderate to extreme level of excitement and adventure – a must for any rafting enthusiast.
Rafting experts agree that the period from July 1 to October 31 is usually the time when Khek River is at its best for rafting for the waters are high and the flow is strong. The route starts from Highway 12 Phitsanulok – Lomsak (45 to 53 km marker), and following the river from Ban Sapphraiwan to Kaeng Song Waterfall, in Phitsanulok's Wangthong district.
As the area is also well known nationally for its authentic Kaeng Song Coffee, tourists visiting the area for rafting should take time to stop off and tour the coffee plantations and enjoy some of the lovely local blends.
For more information, contact TAT Phitsanulok Office at 0-5525-2742-3, 0-5525-9907, or TAT Call Center at 1672.

https://www.facebook.com/AyaraGrandpalacehotelphitsanulok
http://www.ayaragrandpalacehotel.com
https://www.facebook.com/966442313433581
http://www.d11hotel.com