The Great Mekong Bike Ride 2018; 3 Stages I 3 Provinces I 372 KM; 18–20TH MAY 2018
The Great Mekong Bike Ride 2018
3 Stages I 3 Provinces I 372 KM
18-20TH MAY 2018
Welcome athletes, volunteers, spectators, family, and friends. We are excited to once again be back in the Great Mekong Bike Ride 2018 on the week of 18-20th May 2018. Thank you for joining us! We look forward to bringing you an unforgettable bike race experience and an exciting, fun-filled weekend. Our goal is to maximize the enjoyment for everyone at the race! So whether you are competing, volunteering, or spectating we intend for you to have a memorable experience – The destination of the challenge.

The Tourism Authority of Thailand (TAT) teams up with Thailand Tri-League for an eco-friendly 'Great Mekong Bike Ride 2018' scheduled from 18 to 20 May. The race elevates provinces along the mighty Mekong River, putting Nakhon Phanom, Mukdahan and Sakon Nakhon front and centre as leading sports tourism destinations in Thailand's Northeast Region.
The Great Mekong Bike Ride 2018 features three categories including a three-day long-distance triple stage road race starting at 07.00hrs.
Stage one is the 'King of Kong' 127 kilometre of highway cycling along tarmac that snakes alongside the Mekong River from Phaya Sri Satta Nakarat, Nakhon Phanom to Mukdahan Tower, Mukdahan. Stage two challenges entrants along the 150 kilometre 'King of Endurance' stage cycling again along the main highway inclusive of some hilly climbs into Khong Phing Ngu, Sakon Nakhon. While the 'King of Speed' stage three sees cyclists pedal down at maximum speed to Phaya Sri Satta Nakarat, Nakhon Phanom (remarks: subjects to change without prior notice).
Participants are invited to participate in one, two or all three stages or choose to ride in a one-day 10 kilometre fun race that is stages as non-competitive fun for the whole family.
Rewards for cyclists range from a cycling jersey, souvenir t-shirt, trophy, medal and e-certification depending on category and finishing time. Register with Thailand Tri-League from now until 10 May 2018.
Nakhon Phanom known for the huge Wat Phra That Phanom Temple, Wat Maha That, Phaya Sri Satta Nakarat and Wat Si Thep Pradittharam Temples, is a Thailand's most northeastern province bordering Laos on the Mekong River.
Mukdahan is located on the west bank of Mekong River. Here visitors can enjoy various attractions including Mukdahan National Park, Mukdahan Tower, Phu Manorom and Wat Si Mongkhon Tai Temple.
Sakon Nakhon, located not too far from the great Mekong, has various attractions including Wat Phra That Choeng Chum Worawihan and Wat Tham Phae Dan Temples, Ban Tharae Catholic Community and Phra That Narai Cheng Weng.
For more information, contact Thailand Tri-League at +66(0)2-957-5880; TAT Call Center at 1672; or visit www.thailandtrileague.com.
Text Credit : Tourism Authority of Thailand Newsroom
Photo Credit : www.facebook.com/thailandtrileague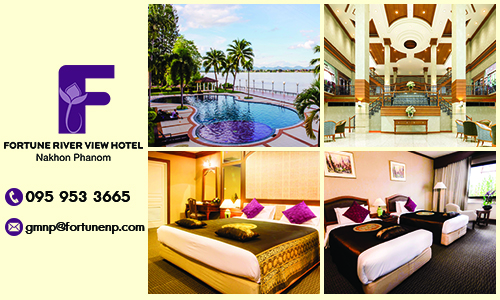 http://www.facebook.com/fortunenp
http://www.fortunenp.com