Discover Wines of Italy Bangkok @ Anantara Siam Bangkok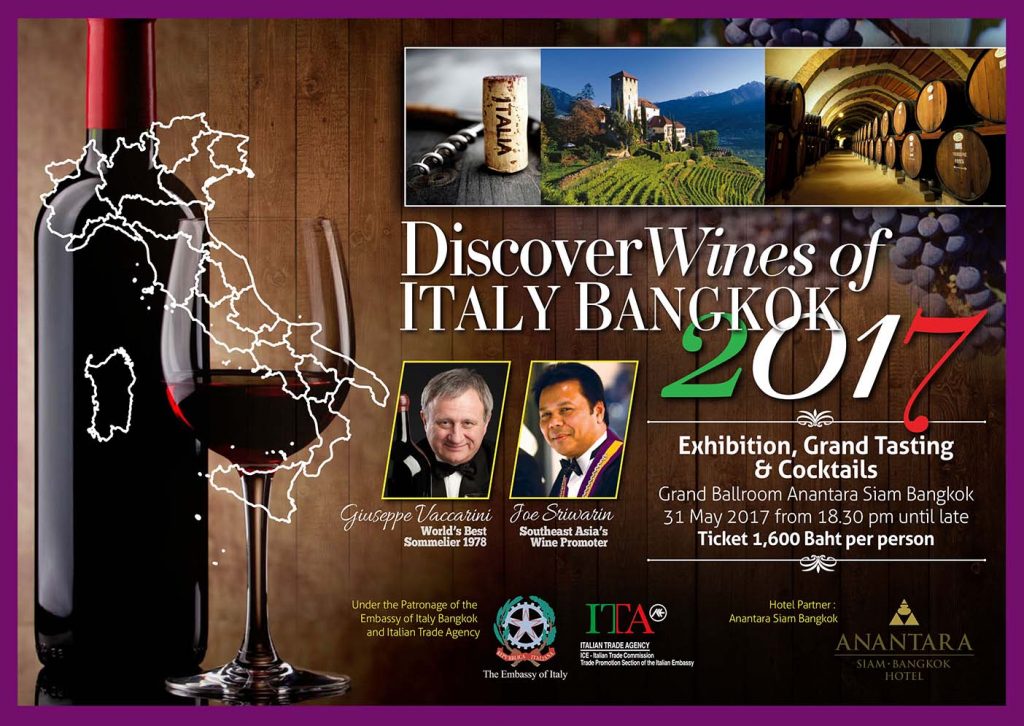 For the very first time in Bangkok, Italy's wine producers will host an exclusively Italian wine master class & tasting, wine competition, sommelier competition, all in one venue from 29th–31st May 2017 at Anantara Siam Bangkok.
"Discover Wines of Italy Bangkok 2017" will be organized by Vaccarini & Sriwarin Marketing found by Mr. Giuseppe Vaccarini, World's Best Sommelier 1978 and President of Associazione della Sommellerie Professionale Italiana (ASPI) and Mr. Joe Sriwarin, regional wine promoter, former sommelier of Columbia Restaurant, QE2 and President of the Wine Professionals' Services Limited.
The exclusive Italian professional wine events are aimed at bringing Italy's wines producers, winemakers and wines from all over Italy to Southeast Asia's Capital, and to explore the emerging markets as well as to help promote the sommelier profession.
The "Discover Wines of Italy Bangkok 2017" Grand Tasting & Exhibition will take place in the Grand Ballroom of Anantara Siam Bangkok, and is open to trade and professionals from 15.30pm-17.30pm and to wine enthusiasts and the public from 18.30pm-11.30pm, 800 people are expected to attend the evening reception.
Prior to the main event, Italy's Wine Master Class & Tasting, will be held in the Pimarnman Room for invited wine importers, wine professionals, sommeliers and media.
The Italy Wine Challenge Southeast Asia (wine competition) will be judged by Thailand's leading sommeliers and sommeliers from neighboring countries, Southeast Asia's leading wine professionals, media and celebrities.
The Italian Sommelier Cup Thailand (sommelier competition), will also be held in the Pimarnman Room where Thailand's leading sommeliers will compete for the prestigious title and the winner's prize is visiting famous Italian wine regions and producers.
The "Discover Wines of Italy Bangkok 2017" is under the Patronage of the Embassy of Italy Bangkok & the Italy Trade Agency.
In a phone interview Mr. Giuseppe Vaccarini commented, "I'm very pleased to learn that I'll be the first Italian Sommelier to host the Italian wine events in Bangkok and I'm excited about the lineup of programs. It will also be my first visit to the Capital of Southeast Asia, but I'm no stranger to the region. I have been promoting wines and sommelier competitions in Malaysia and Vietnam before. I hope professionals and wine lovers will learn more about Italian wines, regions and winemakers at the "Discover Wines of Italy Bangkok", and of course I look forward to visiting your exciting city" he said.
Mr. Joe Sriwarin, a Thai partner and local organizer is not a new face to the wine business, he was the editor and publisher of Wine Today Magazine for over 10 years, until the government banned all print media alcohol advertising, and has since developed himself as a high profile regional wine business entrepreneur.
He is well known within sommeliers scenes across Asia and to the local wine businesses, and is extremely active in promoting wine from around the world in Thailand and neighboring countries.
"We are lucky because people know us through the Bangkok Grand Wine Tasting, still Thailand's biggest and most important wine professional event in the country.
With the tourism industry becoming vital to the country economy, wine is an important part of the luxury lifestyle among 35 million visitors. Wine consumption is increasingly popular among Thais. Thailand has more Italian restaurants and eateries than all of the neighboring countries combined, this proves how much Italian food is popular in Thailand, which also helps in growing the wine trade.
Today we also see more and more wine bars and wine shops springing up not just in Bangkok, but in all tourist destinations, big provinces, and not to forget that Thailand is opening more duty-free outlets so the wine business can only continue to flourish.
Bangkok is definitely the Southeast Asia's mainland wine hub,  from here we can travel to Malaysia's capital in the South, Myanmar in the North, Laos in the Northeast, Cambodia and Vietnam in the East, all within one-two hour air-time, and with borders connected to four countries, it also helps make wines transporting become easier.
We are very pleased to have the 'Anantara Siam Bangkok' as venue partner again. Last year, we hosted the Southeast Asia + Taiwan's Best Sommelier Competition, Black-Tie Gala Dinner and all oversea guests from seven nations stayed there.
We are convinced Italy's wine owners, winemakers and representatives will be happy to learn that a five star accommodation awaits them. The Anantara Siam Bangkok is conveniently located in the heart of capital and with Ratchadamri Skytrain Station situated right in front of the hotel", said Mr. Sriwarin.
For more information, contact Anantara Siam Bangkok @ 0-2126-8866.