Damnoen Saduak Floating Market @ Ratchaburi Province
Damnoen Saduak Floating Market @ Ratchaburi Province



Narrow Canals with Food Vendors on Boats
Damnoen Saduak Floating Market is one of the most popular floating markets in Thailand located in the Damnoen Saduak District, Ratchaburi Province, about 100kms from Bangkok and can be reached by car in around one and a half hours. Damnoen Saduak Floating Market is a very attractive place for tourists to see the old style and traditional way of buying and selling fruits, vegetables, and etc. from small boats. Also tourists can travel by boats for sightseeing to see traditional Thai houses; the way they live; and market activities from a passage along the canal, or whether you can walk on the passage along the canal. Try some of the fruits, coconut ice cream, or order a freshly cooked like noodle soup. The area is famous for Malacca grape, Chinese grapefruit, mangoes, bananas, and coconut. Every day many Thai and foreign tourists travel here to shop, eat, and absorb the atmosphere of Thailand water markets that have been like this for over a 100 years.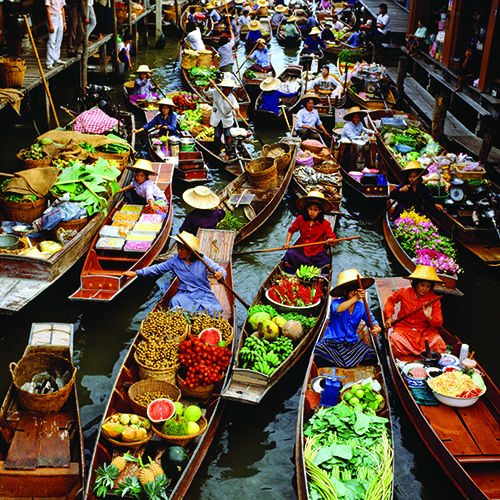 Damnoen Saduak is the straightest and longest canal in Thailand. The canal was built on royal initiative as King Rama IV of Thailand wanted to link the Mae Klong River with Chinese river ways to support transportation and trade. It took over 2 years to dig, and was eventually finished under the reign of his successor King Rama V. The canal is 32 kilometers long and has more than 200 branches. Damnoen Saduak Floating Market's popularity grew to new heights in 1971 – 1973 when the river was full of farmers on their boats selling their wares. And that is the way trade is performed in this area until todays.
Today local people still use the waterways to bring their produce to the market. Damnoen Saduak Floating Market can be visited everyday from around 6am until late noon. Best time to visit is in the early morning hours. There are bus services to Damnoen Saduak from the Southern Bus Terminal on Boromrat Chachonnanee Road starting at 5am (approx 2 hours). You'd better get there as early in the morning as possible to escape a crowd of visitors.
For more information, contact TAT Kanchanaburi Office at 0-3451-1200, 0-3451-2500, or TAT Call Center at 1672.

http://www.khumdamnoen.com
http://www.facebook.com/khumdamnoenresort