Chonburi Buffalo Racing Festival 2018 at Chonburi Province on October 18 to 24
Chonburi Buffalo Racing Festival 2018 at Chonburi Province on October 18 to 24
You are invited to join the amazing spectacle of the Chonburi Buffalo Racing Festival 2018, which will be scheduled to take place on October 18th – 24th, 2018 at the ground in front of Chonburi City Hall. The event is offering a wide range of activities such as, the Buffalo Race (on October 23rd, 2018), the Healthiest Buffalo Contest, Buffalo Fashion and Decora​tion Contest and also Miss Farmer Beauty Contest. Moreover, there will be local product (OTOP) and food for sale.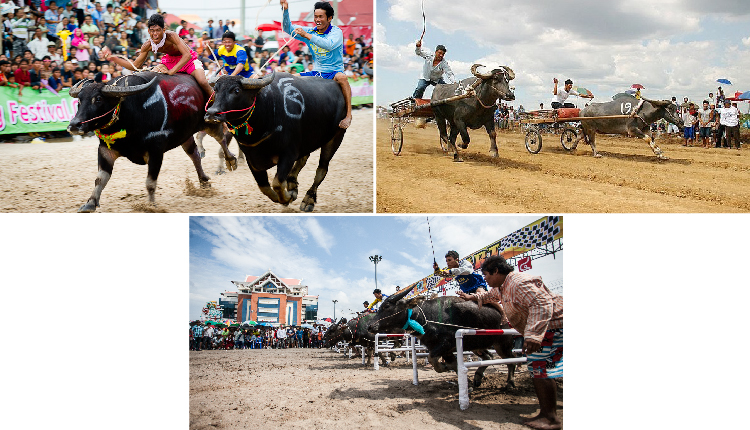 Chonburi's annual Buffalo Racing Festival is one of most exciting events normally held at the end of Buddhist Lent, or Ok Phansa, this is the 147th time.
This Buffalo Racing Festival celebrates the exalted status buffalos enjoy as the uniquely Thai icon of Thailand's agriculture and rural way of life. It gives local people the chance to come together and enjoy fun and good food. As usual, the event is expected to attract large crowds of tourists looking to see something uniquely Thai.
However, with the increased mechanisation of Thai agriculture there is less work for buffalos in the fields. The Buffalo Racing Festival ensures these animals get sustained exercise now missing from their daily life. The buffalos race in three classes based on size, as trainers lovingly place their steeds on strict training and diet regimes in the months leading up to the competition.
Thai buffalos are often stereotyped as slow lumbering beasts; however, many visitors are surprised how fast they can run. It takes a very agile (and light) jockey to hang on for dear life and guide their beloved beasts along an often muddy 100-metre track to victory.
For more information, contact TAT Pattaya Office at 0-3842-7667, or TAT Call Center at 1672.
Photo Credit : TAT Pattaya Office (area of responsibility – Chonburi)