Chinatown, Popular Tourist Attraction & Amazing Street Food
Chinatown, Popular Tourist Attraction & Amazing Street Food
Chinatown is located on Yaowarat Road in the Samphanthawong District. Chinatown is in one of the oldest areas of Bangkok covering a large area around Yaowarat and Charoen Krung Roads. There are many small streets and alleys full of charming old shophouses.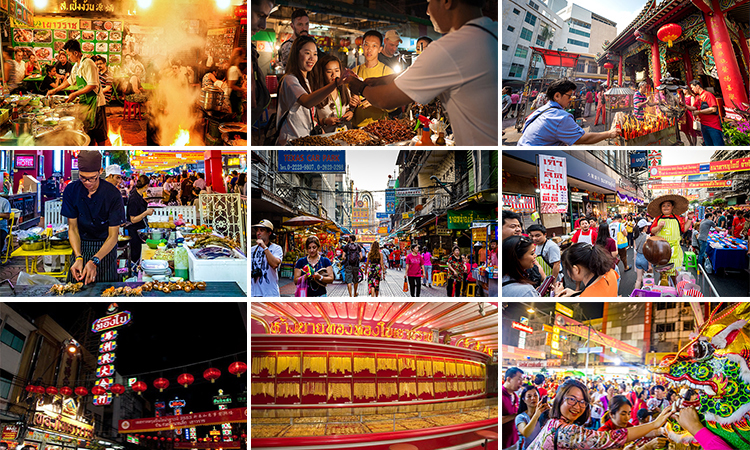 Photo Credit by Tourism Authority of Thailand Newsroom
If you visit Yaowarat during day time, what you see along both sides of this road and a half kilometer road are shops selling gold (recommended ThongBai Yaowaraj ; Sa–Bai Thailand Website readers, discount 20% in wage charge for gold ornament; all branches on Yaowarat road ; พิเศษสำหรับลูกค้าเว็บไซต์สบายไทยแลนด์ รับส่วนลดค่าแรงสำหรับทองรูปพรรณ 20% ได้ทุกสาขาย่านถนนเยาวราช), various fruits, Chinese medicinal products, clothing, Cheongsam dresses, souvenir, and etc. But if you visit Yaowarat after sunset, the road turns into a large 'Amazing Street Food' that draws tourists and locals from all over the city. Hundreds of food stalls line both sides of the road, offering everything from bird's nest soup, Shanghai noodle soup, roll noodle soup, Chinese goat stew, lacquered pork, fried pork belly, pekin duck, shark fin soup, authentic dim sum, pork tripes, stewed pork leg, seafood, roasted chestnuts, delicacies, iced Chinese dessert, and the list goes on…
The places nearby Chinatown are :
Wat Traimit – Temple of the Golden Buddha, located at the end of Chinatown's Yaowarat Road, near Hualampong Railway Station. The Golden Buddha, officially titled Phra Phuttha Maha Suwana Patimakon is a gold statue with a weight of five and a half tons, 15 foot tall seated image is worth millions of dollars at today's gold prices. It is located in the temple of Wat Traimit, Bangkok.
Tien Fah Foundation, was formed in 1902. The foundation provides free medical care to the indigent. Kuan Im (or Guan Yin) is commonly referred to in English as the 'Goddess of Mercy'. The statue of Kuan Im on the altar at the Tien Fah Foundation was carved in China from teak wood and is believed to be 800 to 900 years old. It was taken out of China and installed in the foundation in 1958.
Sampeng Lane Market is actually located on Soi Wanit 1, a small alleyway running parallel to Chinatown's main Yaowarat Road. The most popular items to look out for are silk sarongs, jewelry, copied DVDs, women's shoes, watches, home décor and appliances, kids' toys, cosmetics, handicrafts, dried food and all your usual tourist souvenirs. Do note that this is not a night market, with most of the vendors packing up after sundown (around 6pm).
The Old Siam Shopping Plaza, the classic shopping mall on Rattanakosin Island delights shoppers and foodies with extensive selection of silk and tailoring shops, several weapons and ammunitions shops selling guns, knives and hunting gear (but you must have a license to buy weapons), electrical consumer goods and retail market at Amorn Group, and authentic Thai sweets. The Old Siam Shopping Plaza on Burapha Road is an indoor shopping mall with air conditioned open daily from 9am to 06:30pm.
Pahurat (Little India) is the area bounded by Pahurat Road, Chakkraphet Road, and Triphet Road, just west of Yaowarat, Chinatown Bangkok. It is home to Bangkok's largest Indian community. Bangkok's Little India is well known for its textile, fabric, silk, cotton, wool, cashmere (you can purchase by the square metre). Other items to look out for are traditional dress, jewelry, trinkets & sandals, Indian CDs, VCDs, a wide collection of statues and pictures of Indian deities, dried spices, and much more… If you looking for delicious Indian food, here is the answer, Royal India Restaurant at Chakkraphet Road, Tony's Restaurant at Chakkraphet Road, Punjab Sweets at Chakkraphet Road, Taj Mahal at India Emporium (4/F), and in the sois surrounding Pahurat Road.
For more information, contact TAT Call Center at 1672.

http://www.hotelroyalbangkok.com
http://www.facebook.com/hotelroyalbangkokchinatown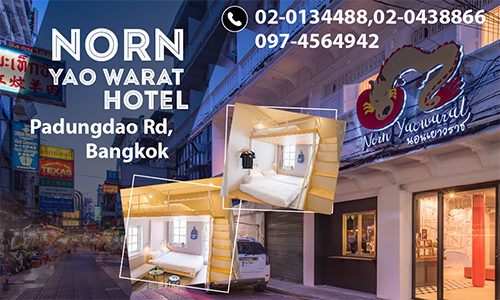 http://www.nornyaowarathotel.com
http://www.facebook.com/Nornyaowarathotel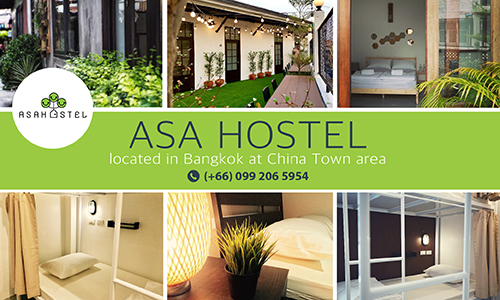 http://www.asahostel.com
http://www.facebook.com/asahostel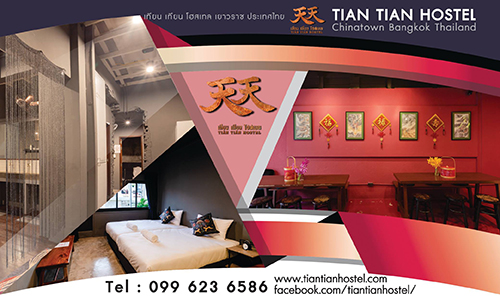 http://www.tiantianhostel.com
http://www.facebook.com/tiantianhostel