Chiangkhan River Mountain Resort – An Old Town of Chiangkhan, Seem Like the Good Old Day Coming Back Again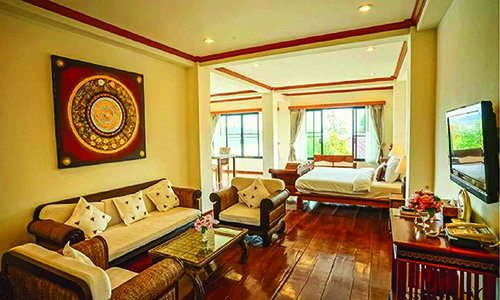 http://www.chiangkhanrivermountain.com
As the first golden light appear, stunning with a thick fog running along Khong River. Grows of Bird begin to sing and leaving their nest for food. At the same time fisherman take their boat to the river an ancient was of fishing begin.
Walking along the road pass through. An old town of Chiangkhan, a touch of culture pure touch of nature. Seems like the good old day coming back again.
Chiangkhan River Mountain a unique luxury resort hotel. Which can service group tour, meeting conference, wedding ceremony, group of learn or diver.
Chiangkhan River Mountain locates on the back of river. In a very peaceful 1.5 Km. from old town. Comes and feel relax cozy and comfortable at Chiangkhan River Mountain.
รุ่งอรุณสายหมอกแล่นละลิ่วเล่นสายลมล่องลอยตามสายน้ำ ตะวันทอแสงเรืองรองสีทองจับขอบฟ้า หมู่นกกินปลาบินออกจากรัง แลแห่งวิถีประมงล่องลู่ทวนลำน้ำโขง พลบค่ำตะวันคล้อยค่อยๆหรี่แสงพลันลับจับขอบฟ้า แลเห็นนกกินปลาบินถลากลับสู่รัง
ค่ำแล้วเดินเที่ยวเล่นชมบ้านเก่าบนถนนสายวัฒนธรรม สัมผัสบรรยากาศและทัศนียภาพที่งดงามได้ที่ เชียงคาน ริเวอร์ เมาท์เทน รีสอร์ท ที่มีบริการรองรับหลากหลายพร้อมสรรพ ทั้งห้องพักสวย ห้องอาหาร ห้องสัมมนา ห้องจัดเลี้ยง คาราโอเกะ หรูหราอย่างมีระดับ เก็บเกี่ยวความประทับใจ  พักผ่อนอย่างมีสไตล์ผ่อนคลายทุกเวลากับเราที่…เชียงคาน ริเวอร์ เมาท์เทน รีสอร์ท…
Tel : 042-822-191, 042-822-193, 087-745-6377
e-Mail : chiangkhanriver@gmail.com
Line ID : chiangkhan.rm