Central Village, Thailand's First Luxury Outlet near Suvarnabhumi Airport
Thailand's first luxury outlet 'Central Village' opened 2 months ago on 31 August 2019
Over 130 boutique stores, of which more than half are opening their first outlet shop in Thailand and with over 60 exclusive brands that are available only at Central Village.
Pinned as a prime location near Suvarnabhumi Airport to attract Thai and foreign tourists who are traveling back and forth from the airport, with three shuttle bus service points at CentralWorld, Udomsuk BTS Station and Suvarnabhumi Airport (pick-up point at Novotel Suvarnabhumi Hotel).
Joining hands with the government sector in promoting Thai brands by establishing the 'Thai Pavilion', where Thai products and contemporary art fairs will be held throughout the year.
Bangkok – Central Pattana plc (CPN) has announced that the opening of Central Village, Thailand's first international luxury outlet, will be held on 31 August 2019. The Bangkok luxury outlet with a total investment of Bht 5 billion is designed to highlight Thai architecture and cultural identities. CPN together with over 130 well-known international luxury and lifestyle brands such as Chloe, CLUB 21 (Outlet By Club 21), Coach, Ermenegildo Zegna, Kate Spade New York, Kenzo, Polo Ralph Lauren, Salvatore Ferragamo, Calvin Klein Jeans, Jim Thompson, L'Oréal Luxe, MAX & CO., Michael Kors, PANDORA, SWAROVSKI, The Cosmetics Company Store, and Victoria's Secret etc. will establish their stores at Central Village. More than half of these brands are opening their first outlet shop in Thailand and over 60 have chosen to open their 'Exclusive Outlet Store' only at Central Village where you can enjoy 35%-70% discounts of your favorite brands every day.
Dr. Nattakit Tangpoonsinthana, Executive Vice President of Marketing of CPN, said: "Central Village is pioneering the new segment of 'Luxury Outlet' for the first time in Thailand. We intends to establish this new retail platform, filling the gap in the market, by making it one of the world's leading shopping destinations similar to other popular tourist cities such as Japan, South Korea and Hong Kong, which also have leading outlets in Asia. Central Village is Bangkok's high potential luxury outlet for Southeast Asia and we are expecting to attract customer traffic of 6-10 million visitors per year, which can be divided into 65% domestic focusing on the young/mass affluent nationwide and 35% international tourists focusing on those who fly into Bangkok. This is in line with the increasing number of people with high purchasing power (middle class) and the young affluent – those young successful individuals from around the world who love to purchase brandname at worthwhile prices."
Dr. Nattakit added: "Central Village is a true 'Shopping Heaven', which gathers together the attraction of over 130 boutique stores from international luxury and lifestyle brands. In addition, there are exclusive deals from more than half of the stores that are opening their first outlet shops in Thailand, and more than 60 brands have chosen to open their shops exclusively with us. CPN is an expert in outdoor mall development and so that we can ensure convenience in all aspects. Besides shopping venues, there are restaurants, Tops Market, kid's playground, and tourist service points. We will provide convenient transportation to and from the project which located near Suvarnabhumi Airport with our shuttle bus service available at three pick-up points: CentralWorld, Udomsuk BTS Station and Novotel Suvarnabhumi Airport Hotel. For those who drive, there are various choices of expressways and main roads to the project. Tourists will be at ease in dropping by at Central Village on their way to and from the airport.
Central Village can easily be accessed via the following:
Take our free shuttle bus from CentralWorld, available three times a day at 11.00, 15.00 and 19.00 hrs.
Public transports by BTS – get off at 'Udomsuk' BTS Station, use Exit 1, 3 or 5 and then take the shuttle bus to the project or by Airport Link – get off at 'Suvarnabhumi Station' and use the shuttle bus service from the pick-up point at the Novotel Suvarnabhumi to Central Village.
GRAB Car Service – with special discounts for customers visiting Central Village.
Personal vehicle – heading to Suvarnabhumi Airport along the motorway or Bangna-Trad Road; the project provides large parking area that can accommodate over 1,500 vehicles.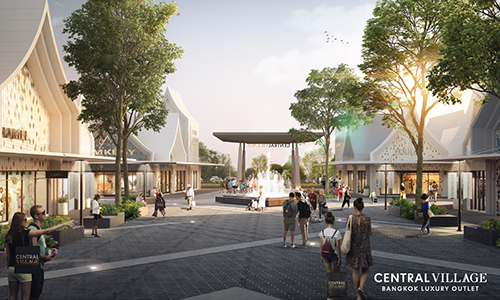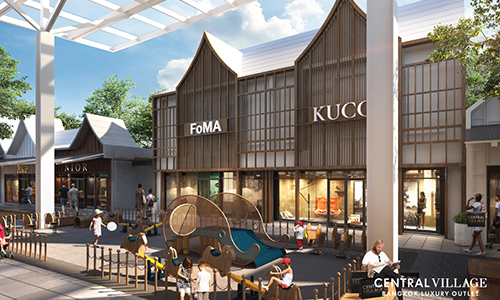 In addition, CPN plans to promote creative Thai brands at the Thai Pavilion Zone, where Thai products and contemporary art fairs will be held throughout the year. We will join hands with the government organisations led by the Ministry of Culture and the Department of Internal Trade (DIT) to hold events in a modern Thai theme presenting gifts and souvenirs such as carved soap, Thai desserts, 'Khon' dolls, tie-dye tote bags and other innovative fashion items sourced nationwide. There will be local handicraft or OTOP items that have been developed commercially including handbags, women's shoes, hand-woven fabrics, leather goods, jewelry and many more. The events will be held throughout the year at the Thai Pavilion Zone and Village Square Zone at Central Village. It is expected that this will become the 'Thai Signature Cultural Event' that helps to promote and highlight the unique of Thai cultural identities created by the Thai people.
'Central Village' – Bangkok Luxury Outlet is the first international luxury outlet in Thailand, with a total investment of Bht 5 billion, situated next to Suvarnabhumi Airport on 100 rai of land with a total project area of 40,000 square meters. It is officially open from 31 August 2019 onwards. Central Village aims to become a new shopping destination that fulfills a wide range of lifestyles with leading domestic and international brands offering 35-70% OFF daily while providing modern Thai architecture among nature outdoor atmosphere in order to offer the best luxury outlet shopping experience in Bangkok.
For further information, please contact: Public Relations Department, Central Pattana Plc at 02-667-5555 ext 3701 Kwanjai Tangbutr (Jai); or 02-667-5555 ext 3754 Thitipon Antrakun (Boat); or visit www.centralvillagebangkok.com.