Amphawa Floating Market, Popular Market in Thailand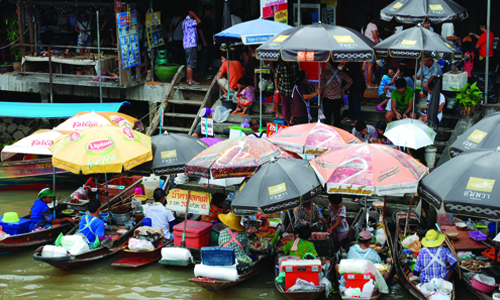 Amphawa Floating Market, Popular Market in Thailand
Amphawa Floating Market is in the Amphawa District, Samut Songkhram Province. The Amphawa District is near Bangkok just one and a half hour drive from Bangkok. Amphawa Floating Market is a floating market by the canal. On Friday, Saturday, Sunday, and official holidays (best time to visit @ 15:00 – 20:00 hrs), Amphawa Floating Market is occupied by vendors who pack their boats with food and beverages. There are also things for sale by the wheelbarrows on the banks. Relaxing atmosphere is created by song broadcasted by the community members. Visitors can enjoy watching fireflies at night under the Lampoon Trees. Usually, you can see fireflies during the rainy season. From May to October, tourists can see fireflies because it is easy to see them. This makes people feel that they are going back to the old times. Tourists can buy many souvenirs in the Amphawa Floating Market.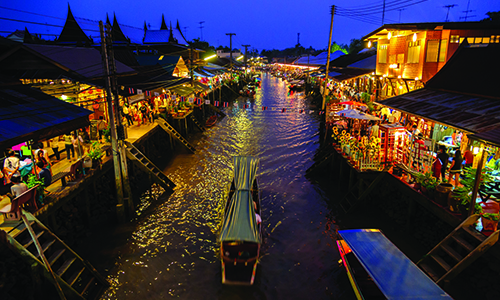 Photo Credit : Tourism Authority of Thailand
The charm of Amphawa Floating Market are the sufficient lifestyle of the people, attractive Thai style houses along the canal, and beautiful temples such as Wat Bang Kung (Bot Prok Pho) which is an 'Unseen in Thailand' (the old ordination hall, wholly covered by Pho (Bodhi) trees. Most of many small boats coming in the canal are like a small restaurant. They cook food and served it. Of course, it is delicious and really tasty like all traditional Thai food at the old day. Apart from food, cruising along the canal to see fireflies at night is one of the most famous activities for tourists coming to Amphawa.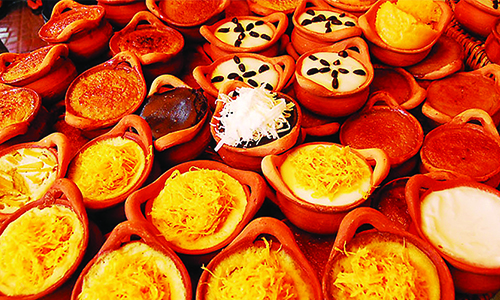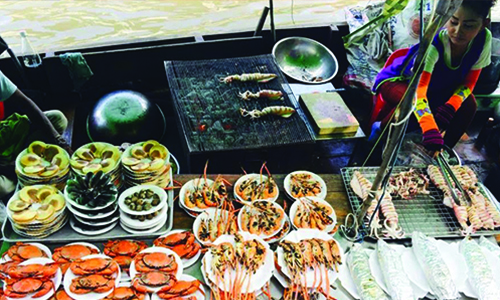 The Amphawa Floating Market has many types of products, whether their Thai food, noodles, variety of desserts (foy thong krob, made from duck eggs; coconut custard squares; steamed rice-skin dumplings; pudding with coconut topping; deletable imitation fruits; and etc), traditional coffee, juice, fruit (the famous fruit in Amphawa is lychee as it is sweet and has a very tiny seed), grilled seafood, and souvenirs (Amphawa Floating Market T-shirts). Amphawa Floating Market T-shirts have many styles and different prices. Visitors can buy souvenirs for family and friends.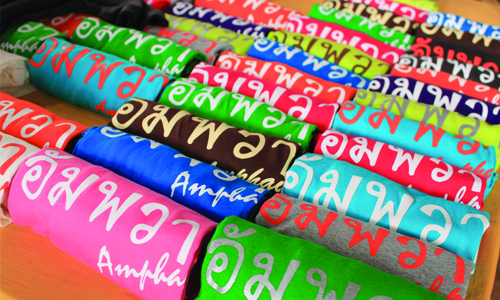 Grilled Seafood is very popular among tourists. There are prawns, shellfish, scallops, oyster, crabs, fish and squids in the wooden boats. Also, you can eat in a restaurant too, by walk a bit further, recommended: Baan Thong Boran Restaurant, Amphawa Hahae, Baan RuaRimKlong, and etc. Amphawa is near enough to Bangkok to make a day trip. But with so much to see, many people stay overnight – so there are some charming home-stays to accommodate them. These give tourists the chance to experience a different side of Thailand. Amphawa should be on any Thai shopping and sightseeing list; after all, the Market offers an experience that lives up to the promise of the travel posters.
For more information, contact TAT Samut Songkhram Office at 0-3475-2847-8, or TAT Call Center at 1672.

http://www.baankornnara.com
http://www.facebook.com/Baankornnara
http://www.thegraceamphawa.com
http://www.facebook.com/TheGraceAmphawa