Akha Swing Festival 2017 in Chiang Rai, September 9 – 10, 2017
The Akha Swing Festival 2017 in Chiang Rai is one of the most interesting cultural rituals in Thailand Events Calendar. It normally takes place in the rainy month of September to celebrate life and fertility of the coming harvest season.
The Akha Swing Festival is one of the most important annual festivals for Akha Hilltribe People in Chiang Rai province. The objective of the festival is to commemorate the goddess of fertility, celebrate the abundant crops waiting to be harvested in rainy season, and also to honour the women of Akha. No wonder as the Swing Festival is also regarded as the 'Women's New Year' for the Akha and all the village women will be looking forward to joining this important ceremony.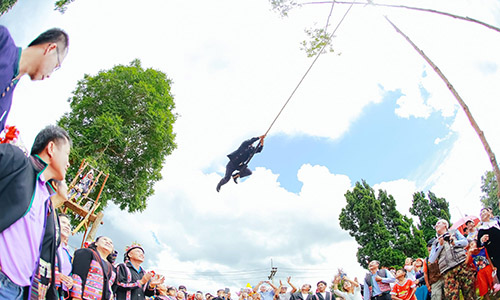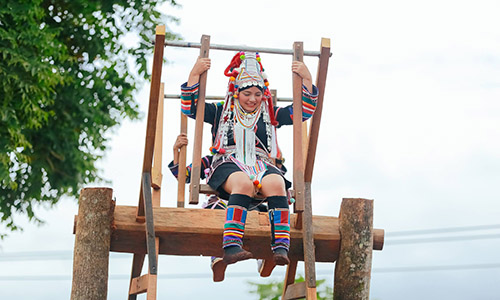 For the Akha women, this Swing Festival offers the opportunity for them to wear the costumes and the ornaments they have spent all year making, and to show that they are becoming older and of marriageable age. The festival will feature sacred rituals, celebrations and dances held to pay respect to the ancestors as well as to enjoy and welcome the harvest seasons.
Highlight of the Akha Swing Festival is when the women fly on the giant swing made of bamboo and wood and they would ride back and forth at terrifying heights, often at the edge of cliffs. As they fly into the air, they would be singing, laughing, screaming, and reciting Akha verses and expect the heavens to answer their call for a good harvest and a promising future.
The event will be full of energy and tribal music and it welcomes any visitors eager to witness this exotic festival.
For more information, contact TAT Chiang Rai Office at 0-5371-7433, 0-5374-4674-5, or TAT Call Center at 1672.