The 4th Edition of Beyond Beauty ASEAN-Bangkok (BBAB2017), IMPACT, September 21 – 23, 2017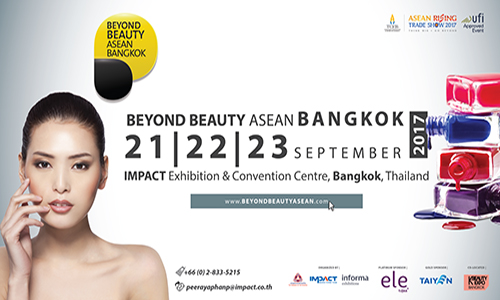 The 4th Edition of Beyond Beauty ASEAN-Bangkok (BBAB2017)
The gateway to the Southeast Asia expanding beauty industry promises to provide beauty industry players the platform to exchange ideas, knowledge and establish possible commercial connections between local and international organizations. Both exhibitors and visitor can explore expansion efforts and growth opportunities in the ASEAN region. The event will be organized around 6 key segments; Beauty & Cosmetics, Hair & Nail, Herbal & Health, OEM & Packaging, Aesthetics & Dermatology and introducing in 2017, the "Spa & Wellness" segment.
This 3-day trade show will act as a true regional gateway for industry players who want to expand in the booming Southeast Asia market representing a population of 600 million and a market size over US$ 14 billion. This trade platform is a great way to explore and benchmark the best opportunities taking place in the area.
21 – 23 September 2017 (10:00 – 18:30 hrs.) at Challenger 3, IMPACT Exhibition and Convention Center, Bangkok, Thailand.
More information: http://www.beyondbeautyasean.com